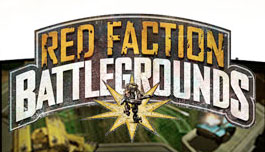 Sony's latest promotion is a free copy of Red Faction: Battlegrounds when you subscribe to PlayStation Plus — the service that gives customers access to free games, discounts, and priority beta & demo invites. Red Faction: Battlegrounds has a $9.99 street value. A 12-month membership to PlayStation Plus costs $49.99 per year.
You can subscribe to 'Plus' via the PlayStation Store or participating retailer – which must be activated by 11:59 PM PST on March 25, 2011. When you subscribe a voucher code for Red Faction: Battlegrounds will be sent to your email address on April 5, 2011.
Red Faction: Battlegrounds is a downloadable vehicle-based mini-game produced by Juice Games for Volition that follows the Red Faction: Armageddon release and supports Xbox and PlayStation.
Free downloads with PlayStation Plus include titles such as Little Big Planet Sackboy's Prehistoric Moves, Assassin's Creed II Full Game Trial, NHL GameCenter, and Tomb Raider: Underworld Full Game Trial.