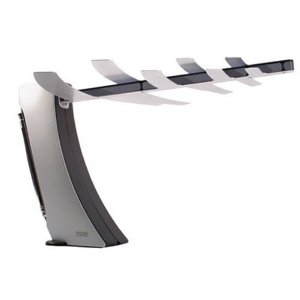 The question I still get quite often is "How do I find HD channels in my area?"
To find HD channels in your local area you can use the website AntennaWeb.org or the government's DTV Reception map. You locate broadcast facilities nearest you simply by entering your zip code. The results will provide you with directions in which to face your antenna to maximize the signal reception of a specific channel or network. AntennaWeb will also help you determine which antenna is best for your environment. Read on for information.
At home I simply have a rooftop antenna connected to my Samsung HDTV via coaxial cable. The HDTV has a built-in digital tuner (as most current HDTVs do) that can scan the antenna connection for available signals. Depending on weather and other obstacles channel strength can be inconsistent, but for the most part the channels with nearby broadcast facilities are near perfect.
If traveling I always use my Elgato EyeTV along with a portable antenna. It's a small USB dongle with coaxial input attachment that does it all for me. If I'm in a good area the reception is clean and sharp and I can even record shows to my PC's hard drive using the device's software. (The dongle also takes composite input via an adapter so I can transfer VHS or DVD footage if needed.)
The local HD channels traveling through digital signals in your area should also be available from your service provider, but are also free over-the-air if you choose to bypass a paid service.
How is HD television free? HD channels, along with standard-definition channels are available as a public service from broadcast stations across the country. After the analog-to-digital conversion in June, 2009 digital signals (which take up less bandwidth than analog) are traveling in all directions. To receive digital High-Definition or Standard-Definition channels all you need is a digital television or digital receiver and CEA-certified antenna.
If you have an older tube TV that isn't High-Definition you can still get standard-def channels in digital quality using an analog-to-digital converter box which sell for about $25 and higher.
Signals in certain areas can be choppy, however. An outdoor rooftop antenna or amplified antenna can help improve your reception. However, in some areas the signals might not be able to pass through your antenna. Unfortunately, if your antenna cannot capture the digital signal you might have to order cable or satellite.
For more reference on receiving HD channels over-the-air read this overview of getting free HD channels. You can also shop for digital converters at Amazon.com.