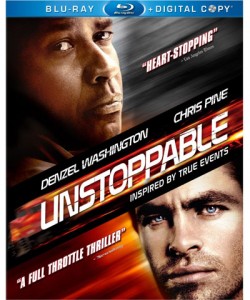 Classics this week on Blu-ray. Darn good classics. But first let's start with last year's action film Unstoppable from 20th Century Fox and director Tony Scott.
Unstoppable stars Chris Pine and Denzel Washington in an action packed thriller similar to Speed — just swap the bus for a train and you've got the idea. (Unstoppable also comes right after Denzel starred in the subway train film The Taking of Pelham 123.) The BD comes with a digital copy, audio commentary, and several featurettes. The single BD-50 is formatted at 1080p with 2.40:1 aspect ratio and 5.1 channel DTS Master Surround Sound.
Now on to some classics. Dustin Hoffman and Tom Cruise star in Rain Man, the 4-time Oscar winning film (Best Leading Actor, Best Director, Best Picture, Best Screenplay) released to theaters in 1988. Both actors put on a stellar performance under the direction of Barry Levinson. Hoffman is unforgettable. The MGM-released BD is formatted in 1080p with 1.85:1 aspect ratio and DTS-HD Master Audio 5.1.
Cher and Nicolas Cage star in Moonstruck from 1987. Written by John Patrick Shanley and directed by Norman Jewison Moonstruck won three Oscars including Best Leading Actress, Best Supporting Actress (Olympia Dukakis) and Best Screenplay. The Blu-ray Disc is formatted in 1.85:1 aspect in 1080p resolution.
All the President's Men is also now available on Blu-ray Disc. It's an absolute classic that won 4 Oscars including Best Supporting Actor. And, the wardrobe rocks! The 1976 film stars Dustin Hoffman and Robert Redford as reporters caught up in the Watergate scandal. All the President's Men is formatted at 1.78:1 aspect ratio and DTS-HD Master Audio 2.0.
Another 70's film that is a must see in hi-def is Last Tango in Paris. The 1972 film that stars Marlon Brando and Maria Schneider is a perfect release for Valentines Day – NC-17 style. The BD-50 is formatted in 1080p with 1.85:1 widescreen aspect ratio.
Other Blu-ray releases this week include:
Doctor Who: A Christmas Carol
Summer Wars
Network
Chaplin (15th Anniversary Edition)
Top Gear: Complete Season 14, 15
Waiting for "Superman"
The Twilight Zone: Season 3
You Will Meet a Tall Dark Stranger
Dungeons & Dragons 2-Movie Collection
For a list of all Blu-ray Disc releases this week click here.