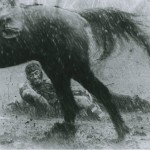 Subscribers to Hulu Plus now have access to over 150 Criterion Collection titles with more to be added each month. In total, Criterion Collection has digital streaming rights to over 800 titles which could end up on the commercial-free premium service from Hulu. Criterion Collection titles were first added to Hulu early in 2010, with the addition of six films from the "Zatoichi" series of Japanese films.
Several well known titles in the Criterion Collection include The 400 Blows, L'Avventura, The Battle of Algiers, Breathless, La Jetée, Jules and Jim, M, Pickpocket, Playtime, Rashomon, Seven Samurai, La Strada, and The Wages of Fear. Hard-to-find titles such as Le Silence de la Mer and L'Assassin Habite au 21 will also be available through Hulu Plus.
Just a few of the directors represented in the Criterion Collection include Antonioni, Bergman, Bresson, Chabrol, Chaplin, Cocteau, Dreyer, Eisenstein, Fellini, Godard, Kaurismaki, Kieslowski, Kurosawa, Lang, Renoir, Tati, Truffaut, and Welles.
The Hulu Plus premium service available from Hulu.com costs $7.99 per month.