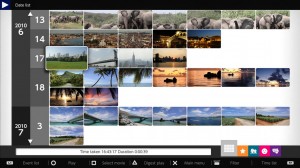 A new piece of software from Sony called "Filmy" allows viewing of Advanced Video Codec High Definition (AVCHD) video from Sony cameras and taps into the GPS and meta data stored in the video content.
Via USB cable, 'Filmy' allows playback of high-definition video from your connected camera to your PS3, and finally to your TV, making the gaming console even more versatile. 'Digest Play' allows a user to play highlights determined by meta data such as Face Detection, and you can search through favorite tagged scenes.
In addition, a feature utilizing certain Sony camera's GPS location tagging allows you get an "Earth View" of your video content.
Filmy costs $5 but you can try it out for free for 15 minutes (yeah, you heard right, 15 minutes). After installing the app available in the PlayStation Store, you'll be a able to find it under the Video icon on the XMB.