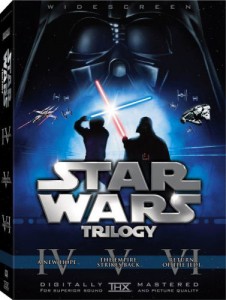 Amazon's trade-in offer will take your DVDs, HD DVDs, and Blu-ray Discs as trade-ins for the upcoming Star Wars trilogies and 'Complete Saga' on Blu-ray. To get credit for your trade-ins (which will be delivered via Amazon.com gift card) you must first use Amazon's search tool to find qualifying discs.
Once you find all the movies or TV shows you want to trade in (and they don't have to be Star Wars titles), you need to package and ship them. Once they are received you will get the credit. (The discs are actually purchased by third parties through Amazon.)
Trade-in values for the Star Wars boxed trilogy DVDs range between $4 and $12 depending on edition. The 2008 edition containing A New Hope, The Empire Strikes Back, and Return of the Jedi all in widescreen format is currently the most valuable trade-in at $12. Single packaged titles are worth much less.
It's not a bad way to cut down the cost of the Star Wars movies on hi-def Blu-ray, and a good opportunity to clear out all those DVDs or HD DVDs you haven't watched. Of course, the discs you send in must be in good condition to receive the credit.
The complete Star Wars six-movie saga is available for pre-order in one boxed set of nine Blu-ray discs, or the original trilogy and the prequel trilogy as three-disc sets.
To trade-in your Star Wars DVDs, or any other qualifying DVDs or HD DVDs, visit Amazon's trade-in page.