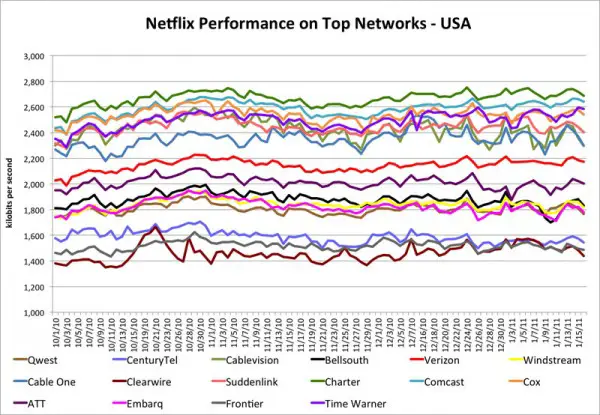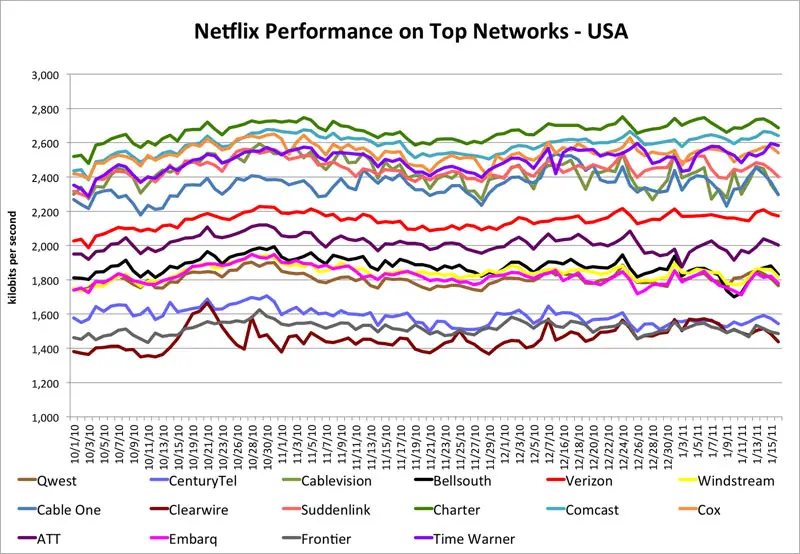 Netflix has revealed ISP performance tested on streaming HD content playback. At the top of the metric is Charter who provided the highest performance in the testing, averaging between 2500 kbps and 2700 kbps.
The middle of the metric indicates Clearwire and Verizon's FiOS average around 2000 kbps and 2100-2200 kbps, respectively.
At the bottom of the performance was Clearwire, although the metric shows the ISP neck and neck with Frontier and CenturyTel since the start of 2011.
Other providers in the test include Bellsouth, Cablevision,Time Warner, Windstream, Cox, Suddenlink, Cablevision, Embarq, Cable One, AT&T, and Cable One.
Netflix says their top HD streams are about 4800 kilobits per second, although content delivery director Ken Florance says, "No client would sustain a 4800 stream from start to finish."
He qualifies by saying that there would be smaller streams averaged in for content startup, but that the higher the sustained average the higher quality image throughout playback of the content.
In the graphic metric, mobile streams were filtered out. (Click on graphic to enlarge.)