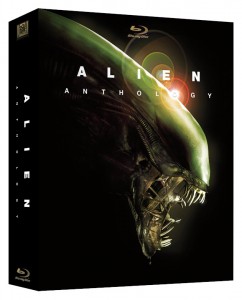 This week save 50% on the Alien Anthology Blu-ray box set. The $139 six-disc collection from 20th Century Fox is now selling for $69 until Nov. 27 – another one of Amazon's Boxed Set Deal of the Week specials. Order Alien Anthology on Blu-ray and get $5 worth of eligible movies and TV shows from Amazon Video On Demand after your purchase.
The Alien Anthology Blu-ray Disc boxed set includes 2 versions of each film and over four hours of previously unreleased exclusive material such as Sigourney Weaver's original screentests for Alien, never-before-seen deleted material, thousands of still photographs from the Fox archives, and the never-before-seen original cut of "Wreckage and Rage: The Making of ALIEN3."
Note: You may need a firmware update for complete playback of this box set. Several BD players have been listed as possibly needing updated firmware including: Panasonic BD10 and BD80; PS3; Sharp HDS43, BD-HP21, and BD-HP20; Sony BDP-N460, 370, and 350; Samsung 1000, 1200, 1590, 2550, and BD-P3600; Oppo BD80 and BD83.
For more Black Friday deals from Amazon and other retailers click here.