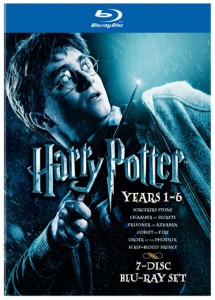 We haven't seen a Box Set deal like this in a while. Take $60 (or 60%) off the Harry Potter Years 1-6 Giftset on Blu-ray which is normally priced at $100. (The DVD versions are also discounted by 60%.) All six of the first Harry Potter films from Warner Bros. are spread across six Blu-ray Discs. In addition to the films, the giftset contains extra scenes, cast and crew interviews, production featurettes, BD-Live content and more totaling over 871 minutes of content. Follow this link to find the Black Friday blowout on Amazon. [UPDATE NOV. 24, 2010: Amazon has revised the discount to 30% off.) See film descriptions below:
HARRY POTTER: THE FIRST SIX YEARS
HARRY POTTER AND THE SORCERER'S STONE – The magical adventure begins when Harry Potter is invited to attend Hogwarts School of Witchcraft and Wizardry.
HARRY POTTER AND THE CHAMBER OF SECRETS – Cars fly, trees attack and a mysterious house-elf warns Harry that he is in great danger as he returns for his second year at Hogwarts.
HARRY POTTER AND THE PRISONER OF AZKABAN – Harry must confront soul-sucking Dementors, outsmart a werewolf and learn the truth about the escaped prisoner of Azkaban – Sirius Black.
HARRY POTTER AND THE GOBLET OF FIRE – Harry must overcome a deadly dragon, fierce water demons and an enchanted maze only to find himself in the cruel grasp of He Who Must Not Be Named.
HARRY POTTER AND THE ORDER OF THE PHOENIX – When few believe that Lord Voldemort has returned, Harry must secretly train his friends for the wizarding war that lies ahead.
HARRY POTTER AND THE HALF-BLOOD PRINCE – As Lord Voldemort tightens his grip on both Muggle and wizarding worlds, Harry and Dumbledore work to find the key to unlock Voldemort's defenses.