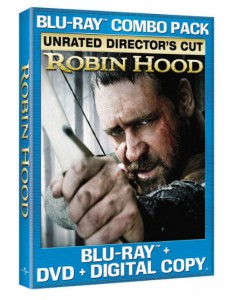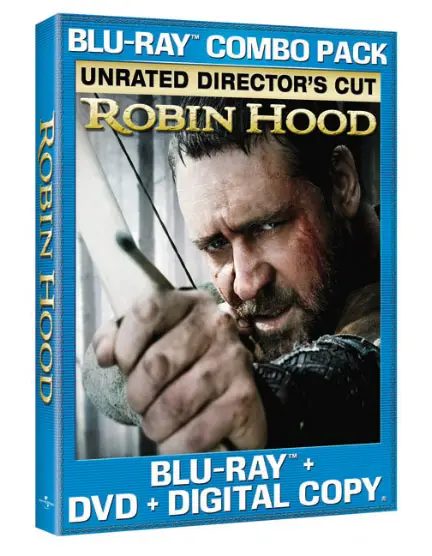 A few good ones this week to own but the rest are just rentals in our humble opinion.
Robin Hood (Blu-ray/DVD Combo + Digital Copy)
While you might have seen the uncanny comparisons of Russell Crowe's Robin Hood to Russell Crowe's Oscar-winning Gladiator if you are any kind of Ridley Scott fan this is must own. Historically, the film does an amazing job at recreating all the details of the period and of course Scott's action film mojo is too much to resist.
From Universal Studios, Robin Hood on Blu-ray Disc is presented in 1080p resolution at 2.40:1 aspect ratio and packaged with 3 discs including a DVD and digital copy. Features include deleted scenes, commentaries, a director's notebook and "Rise and Rise Again": Making Ridley Scott's Robin Hood.
Spartacus: Blood and Sand – The Complete First Season (4-Disc Blu-ray)
Funny we mentioned "Gladiator" because from Starz/Anchor Bay comes another title set in the Roman Empire period although the Blu-ray release may be overshadowed by the unfortunate news that star Andy Whitfield won't be able to return for a second season due to a cancer relapse. Season one of Spartacus: Blood and Sand is set in 1.78:1 widescreen aspect ratio on four Blu-ray discs. Featurettes on this release include Gladiator Camp, History Rewritten, Make-up Effects, and The Hole. Other extras include bloopers, behind-the-scenes footage and a Blu-ray exclusive: Four "Directors' Cut Extended Episodes"
Tinker Bell and the Great Fairy Rescue (Two-Disc Blu-ray/ DVD Combo)
Enough with the blood and guts for a minute what about some quality family content found in Tinker Bell and the Great Fairy Rescue. The Disney film stars some names you may have heard of providing voiceovers including Michael Sheen, Mae Whitman and Lucy Liu. A Tinker Bell three pack Blu-ray bundle has also been released which includes Tinker Bell, Tinker Bell and the Lost Treasure, and Tinker Bell and the Great Fairy Rescue. Why travel to Target three times if you don't have to?
American Beauty (Sapphire Series)
Finally, American Beauty gets a high-def treatment for the first time as part of Paramount's Sapphire Series on Blu-ray Disc. The film won five Academy Awards including Best Picture, Best Actor (Kevin Spacey), and Best Director (Sam Mendes). American Beauty also stars Annette Bening (Nominated for Best Actress), Mena Suvari, Peter Gallagher, Wes Bentley and Thora Birch. The Blu-ray Disc is presented in 2.35:1 widescreen aspect ratio at 1080p resolution with audio formatted in DTS-HD Master 5.1. Unfortunately, American Beauty appears to be currently out of stock as of this publishing but you can request to be notified from Amazon once it becomes available.
Want to see what else hit the shelves this week? Check out all the Blu-ray releases
for the week of Sept. 21, 2010.