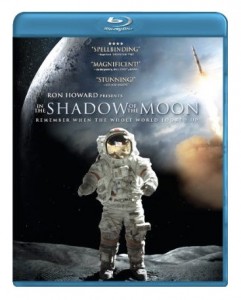 If you have any interest in science and space Shadow of the Moon (2007) is a must-have on hi-def Blu-ray Disc. The Ron Howard documentary combines historical NASA footage with stories from surviving Apollo mission crew members who remain the only humans to step foot on another planet. Video is 1080p with DTS-HD Master Audio 5.1 on a single BD — currently priced at just $12.99.
Other highlights this week National Lampoon's Vacation (1983) and National Lampoon's European Vacation (1985), Crumb from The Criterion Collection (1994), Death at Funeral (the 2010 remake), classic Barbara Streisand in What's Up, Doc (1972), and this year's Steve Carell/Tina Fey comedy Date Night (just saw this on a plane – good stuff).
Check out all Blu-ray releases
for Aug. 10, 2010. Shop for Blu-ray Disc titles priced under $15.
Date Night, Starring Steve Carell and Tina Fey
National Lampoon's Vacation, Starring Chevy Chase, Randy Quaid, Anthony Michael Hall
National Lampoon's European Vacation, Starring Chevy Chase, Eric Idle, John Astin, and Paul Bartel
What's Up Doc?, Starring Barbra Streisand, Ryan O'Neal, Madeline Kahn
Death at a Funeral, Starring Zoe Saldana and James Marsden
In the Shadow of the Moon, Starring Buzz Aldrin, Neal Armstrong, Alan Bean, and Harrison Schmitt
Triage, Starring Colin Farrell and Jamie Sives
Crumb (The Criterion Collection), Starring Robert Crumb, Aline Crumb, Charles Crumb, and Maxon Crumb
The Joneses, Starring Demi Moore and David Duchovny
The Diplomat, Starring Dougray Scott
La Mission, Starring Benjamin Bratt, Jeremy Ray Valdez, Max Rosenak
The Killing Room, Starring Nick Cannon and Timothy Hutton