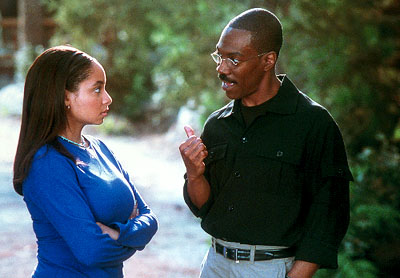 Netflix frequently adds more HD titles to their streaming lineup — you can find them under the "New Arrivals" tabs in the Netflix interface . Unfortunately they don't have a simple breakdown of HD quality, so we've scrolled through ourselves. Videos in high-definition are AVC compressed with Dolby Digital at 48kHz. Yeah, the quality doesn't quite match that of a Blu-ray Disc but then again you don't have to wait for it.
Here are a few highlights:
Dr. Dolittle
(1998) PG-13
Funnyman Eddie Murphy portrays the titular San Francisco doc who regains his childhood gift for conversing with critters when he hits his head on the windshield of his car. Soon, his new ability leads to a business opportunity.
Boys Don't Cry
(1999) R
When Teena Brandon (Hilary Swank) moves to a small Nebraska town in search of a new life, she takes the name Brandon Teena, passes herself off as a boy, begins dating a beautiful girl (Chloe Sevigny) and makes friends among the town's redneck men … until the truth is revealed.
Something to Talk About
(1995) R
After experiencing marital problems with Eddie (Dennis Quaid), Southern belle horse trainer Grace (Julia Roberts) moves in with her outspoken sister, Emma (Golden Globe-nominated Kyra Sedgwick). Soon, she's hit with revelations that her mom (Gena Rowlands) and dad's (Robert Duvall) marriage is also fractured.
Waiting for Guffman
(1996) R
Community theater gets spit-roasted in this blistering mockumentary penned by (and starring) Christopher Guest, who plays the ultra-fey Corky St. Clair, a local theater impresario who takes his directing duties a little too close to heart.
Other movie titles available in streaming HD:
Pressure Cooker
Dust to Glory
You Kill Me
Mary and Max
Prodigal Sons
Home Alone 2: Lost in New York
Touching the Void
Dr. Dolittle
In a Day
The Art of the Steal
Boys Don't Cry
Camp
Hey Hey It's Esther Blueburger
The Eclipse
Pierrepoint
Something to Talk About
Waiting for Guffman