Wrigley field never looked so good. A new AT&T U-verse app lets Chicago Cubs fans choose from 7 different WGN-TV Chicago angles as your main picture, and up to four different cameras placed at home plate, third base, first base and center field at one time. Dan York, president of content at AT&T said, "It's like you're sitting in the production booth and calling the shots." (See screenshot below.)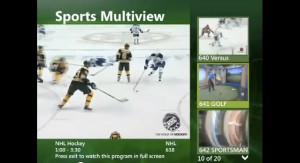 Chicago Cubs Multiview will be available to all U-verse TV customers in the Chicago area free-of-charge on channel 780. The app will work for Cubs home games on WGN-TV starting Sunday, Aug. 8 and throughout the rest of the MLB season.
Multiview was first introduced to AT&T U-verse customers in fall '09, and the My Multiview app in June 2010. U-verse also provides a Sports Multiview, Kids Multiview and News Multiview.
Too see a video demo click here. Have you tried out the app? Let us know how it works!