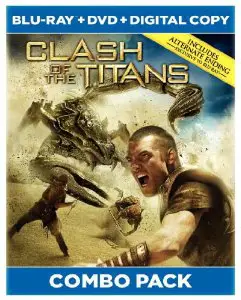 Not a bad lineup of Blu-ray Disc releases this week and certainly no shortage of action/adventure films including titles like Crouching Tiger, Hidden Dragon, Stargate Universe – SGU: Season 1.5 and this year's 2D/3D release Clash of the Titans. Also, there's no shortage of Sly Stallone releases this week and it's no coincidence Sly has been in the news blaming Batman for the downfall of action heroes but nevertheless showing up at Comic Con 2010 to promote his new film The Expendables.
Stallone releases this week include Rambo (Extended Cut) (2008), Rambo: The Complete Collector's Set (containing all Rambo films from 1982-2008) and Lock Up (1989).
And, for you Broadway goers there is the release of Victor Victoria (1995 Broadway Production), a videotaped musical performance based on the 1982 film which stars Julie Andrews, Tony Roberts, Rachel York, Michael Nouri and directed by Blake Edwards.
One more disc worth mentioning. If you are any kind of Mickey Rourke fan you may have seen Johnny Handsome (1989) which is a great Rourke film and also stars a few unknowns by the names of Ellen Barkin, Elizabeth McGovern, and the one and only Morgan Freeman.
Here's a list of some of the more mentionable Blu-ray titles this week. Check out all the Blu-ray releases for July 27, 2010.
"Crouching Tiger, Hidden Dragon"
"Clash of the Titans (Blu-ray/DVD Combo + Digital Copy)"
"Rambo (Extended Cut)"
"Batman: Under the Red Hood"
"Batman: Under the Red Hood (Amazon Exclusive Limited Edition with Litho Cel)"
"Repo Men (Unrated)"
"Ip Man (Collector's Edition)"
"G.I. Joe: The Movie (Special Edition)"
"Stargate Universe – SGU: Season 1.5"
"Fanboys"
"Rambo: The Complete Collector's Set"
"Lock Up"
"Battlestar Galactica: Season Three"