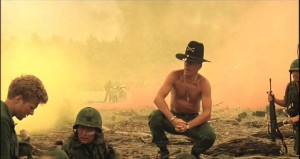 Lionsgate has acquired North American home distribution rights for Coppola films under his Zoetrope Corporation. The agreement gives Lionsgate rights to distribute classic films from Coppola via DVD, Blu-ray, electronic-sell-through (EST), video-on-demand (VOD) as well as broadcast television in North America. Apocalyse Now and Apocalyse Now Redux are among the films to be distributed by Lionsgate.
On October 19th, Apocalypse Now will premiere for the first time in high-definition on Blu-ray Disc in two deluxe editions: a 2-Film Set and 3-disc Full Disclosure Edition. Coppola supervised the new high-definition transfers.
The 2-Film Set will include both Apocalypse Now – The 1979 Cut and Apocalypse Now Redux and will also include over nine hours of special features. The Full Disclosure Edition will include the seminal making-of documentary Hearts of Darkness, a 48-page collectible booklet and storyboard, photo and marketing archives.
The Conversation (1974) and Tetro (2009) will also be released by Lionsgate under the agreement.
"With their expertise in the home entertainment marketplace, we consider Lionsgate to be the perfect partner to distribute some of my most enduring films," said Francis Ford Coppola.
"We are thrilled to be in business with Francis Ford Coppola, one of the greatest filmmakers of our time," said Lionsgate President and Co-Chief Operating Officer Steve Beeks.
Meanwhile, shareholder Carl Icahn "blasts" Lionsgate for debt-equity swap which reduced the owner's stake in the company. Read more on this story at Home Media Magazine.