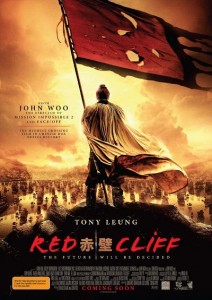 The Maid (2009)
When Raquel's (Catalina Saavedra) place in the Valdes family — for whom she's provided 23 years of maid service — is threatened after they hire more help, she decides to do something about it in this Golden Globe-nominated comedic drama from director Sebastián Silva.
Genre: Foreign Dramas, Foreign Comedies, Latin America
Formats: DVD and streaming (HD available)
My Bodyguard (1980)
Tormented by a gang of bullies — led by Matt Dillon, in one of his first film roles — sheltered new kid Clifford (Chris Makepeace) seeks protection from older student Linderman (Adam Baldwin), a burly loner who's rumored to have killed — and possibly eaten — his own brother. Martin Mull, Ruth Gordon and Joan Cusack also star in this coming-of-age story about an unlikely friendship between two outcasts. Tony Bill directs.
Genre: Teen Dramas, Teen Comedies, Coming of Age
Formats: DVD and streaming (Streams in HD but not indicated on website.)
Red Cliff: Theatrical Version (2008)
When a warmongering prime minister (Fengyi Zhang) advances his armies against two rival kingdoms, he unwittingly prompts his adversaries (Chen Chang and Yong You) to work together in this martial arts action-adventure. The ensuing conflict culminates in the epic battle of Red Cliff, a struggle by the sea involving more than one million soldiers. Director John Woo's big-budget spectacle is based on the novel Romance of the Three Kingdoms.
Genre: Foreign Action & Adventure, China, Foreign Regions
Formats: DVD, Blu-ray and streaming (HD available)
180° South (2010)
Inspired by pioneering outdoorsman Yvon Chouinard's freewheeling 1968 van trip to Patagonia, South America, a band of bliss-seeking surfer-mountaineers sets out — in 2007, by boat — to remake the journey in this adventure documentary. Jeff Johnson and his buddies hug the coast, stopping at the Galapagos Islands and Easter Island before arriving in Patagonia — a region that's still breathtaking but is now besieged by environmental threats.
Genres: Travel & Adventure Documentaries, Science and Nature Documentaries, Sports Documentaries
Formats: DVD, Blu-ray and streaming (HD available)
Woman on Top (2000)
Set to the intoxicating rhythms of Brazilian music and filled with color, food and passion, Penelope Cruz stars in this sexy comedy as Isabella, a chef whose motion sickness drives a wedge between her and her husband, Toninho (Murilo Benicio). After Toninho is unfaithful, Isabella relocates from Brazil to San Francisco, where she starts a successful television cooking show. Soon, Toninho follows Isabella to America to try and win her back.
Genre: Romantic Comedies, Steamy Romance, Food Stories
Formats: DVD and streaming (Streams in HD but not indicated on website.)
When You're Strange: A Film About The Doors (2009)
Composed entirely of original footage from 1966-71, Tom DiCillo's documentary about The Doors filters truth from myth, reveals new insight into Jim Morrison and his bandmates, and captures the essence of the iconic rock group and the era. DiCillo's film pays tribute to The Doors and their music and to a generation's struggle for individuality and authenticity during an unstable and transformative epoch in America.
Genre: Rockumentaries, Classic Rock, Rock & Pop
Formats: DVD, Blu-ray and streaming (HD available)
Men of Honor (2000)
Against formidable odds — and an old-school diving instructor (Robert De Niro) embittered by the U.S. Navy's new, less prejudicial policies — Carl Brashear (Cuba Gooding Jr.) sets his sights on becoming the Navy's first African-American master diver in this uplifting true story. Their relationship starts out on the rocks, but fate ultimately conspires to bring the men together into a setting of mutual respect, triumph and honor.
Genre: Military & War Dramas, Social Issue Dramas, Biographies
Formats: DVD, Blu-ray and streaming (Streams in HD but not indicated on website.)