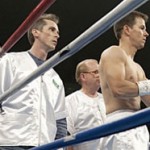 Relativity Media, the studio that brought recent films such as "Robin Hood," "Get Him to the Greek" and "Grown Ups" to theaters, has made an agreement with Netflix to distribute titles during the "pay TV window," the time during which studios have usually disallowed Netflix streaming of certain titles in favor of agreements with premium pay channels.
Netflix says that distribution rights for some films exclusively given to paid TV channels have lasted up to nine years. The new agreement with Relativity will get feature films on Netflix within months after the initial DVD/Blu-ray release, rather than years.
"The Fighter" (starring Christian Bale, Mark Wahlberg and Amy Adams) will be among the first Relativity films to . "Skyline" (co-directed by the Brothers Strause), "Season of the Witch" (starring Nicolas Cage), "Movie 43," (wriiten by Peter Farley) are among the films to be released this year and shortly after available on Netflix.
Relativity has financed, co-financed or produced over 200 feature films which generated more than $13 billion in box office revenue worldwide.