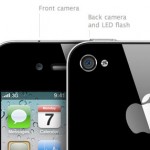 Apple says 1.7 million iPhones have been sold within 3 days, while Steve Jobs apologizes to customers about not having enough in supply. Pre-orders were halted after 600,000 were sold, and Jobs has got to be smiling while kicking himself at the same time. Could Apple have sold 1 million pre-orders of the iPhone 4 if they hadn't stopped?
No matter, according to Jobs the 4th-gen iPhone has become Apple's "most successful product launch in Apple's history." He adds, "Even so, we apologize to those customers who were turned away because we did not have enough supply."
The new iPhone features an HD quality camera — capturing 720p video resolution at 30 frames-per-second. The phone also houses a 5 megapixel still camera, an Apple A4 processor, a 3-axis gyro and up to 40 percent longer talk time.
The operating system is loaded with iOS 4, featuring multitasking, folders, enhanced Mail, deeper Enterprise support and Apple's new iAd mobile advertising platform. iMovie can be used on the iPhone ($4.99) to edit video, add transitions, music and photos.
The iPhone sells in the US for an MSRP of $199 (16GB) or $299 (32GB) with AT&T 2-year contract. Best Buy, Radio Shack and Wal-Mart also now carry the iPhone.