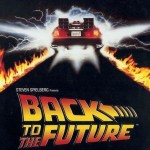 Universal Studios Home Entertainment will release Back to the Future I, II and III as a 25th Anniversary Trilogy on Oct. 26, 2010. The newly restored high-def Blu-ray Disc release will contain over two hours of bonus material including 16 deleted scenes, behind-the-scenes footage and "Tales from the Future," a new six-part retrospective documentary.
This will be the first time the Back to the Future films will be released in high-definition disc format. Features exclusive to the Blu-ray Disc release include U-Control, BD-Live, My Scenes, and pocket BLU. (See full details below.)
The Steven Spielberg-produced films spanned five years (1985-1990) and earned close to $1 billion in revenue. Back to the Future (1985) won an Academy Award for Best Effects, Sound Effects Editing. All three films were directed by Robert Zemeckis and co-written by Zemeckis and Bob Gale.
Now Available! Order
Back to the Future: 25th Anniversary Trilogy
on Blu-ray Disc with Digital Copy.
[HTML1]
BONUS FEATURES EXCLUSIVE TO Blu-ray(TM):
— U-CONTROL: Universal's exclusive signature feature allows viewers to
learn more about their favorite film without ever leaving the movie.
— Setups & Payoffs: As you watch each of the three films, each "set
up" showcases items in the scene that prepare you for a future
plot point. When you get to that moment in the film, the "payoff"
is shown to complete the correlation.
— Storyboard Comparison: Compare key scenes in the movie with the
original storyboards.
— Trivia Track: Get inside trivia and facts while you watch the
movies.
— BD-LIVE(TM): Access the BD-Live(TM) Center through your
Internet-connected player to get even more content, watch the latest
trailers and more!
— My Scenes: Bookmark your favorite scenes from the movies.
— pocket BLU(TM): USHE's groundbreaking pocket BLU app uses iPhone®,
iPod® touch, iPad®, Blackberry®, Android(TM), Windows and Macintosh
computers and more to work seamlessly with a network-connected
Blu-ray(TM) player and offers advanced features such as:
— Advanced Remote Control: A sleek, elegant new way to operate your
Blu-ray(TM) player. Users can navigate through menus, playback and
BD-Live(TM) functions with ease.
— Video Timeline: Users can easily bring up the video timeline,
allowing them to instantly access any point in their favorite
episode.
— Mobile-To-Go: Users can unlock a selection of bonus content with
their Blu-ray(TM) discs to save to their device or to stream from
anywhere there's a Wi-Fi network, enabling them to enjoy exclusive
content on the go, anytime, anywhere.
— Browse Titles: Users will have access to a complete list of
pocket BLU(TM)-enabled titles available and coming to Blu-ray(TM).
They can view free previews and see what additional content is
available to unlock on their device.
— Keyboard: Enter data into a Blu-ray(TM) player with your device's
easy and intuitive keyboard.
— Archival Featurette Back to the Future Night: Hosted by Leslie
Nielson, this original 30-minute special aired on NBC prior to the
first television screening of the Back to the Future.
BLU-RAY(TM) and DVD BONUS FEATURES
— Tales from the Future: New six-part retrospective documentary
featuring interviews with Michael J. Fox, Christopher Lloyd, Lea
Thompson, Director Robert Zemeckis, Producers Bob Gale and Neil
Canton, plus Executive Producer Steven Spielberg.*
— In the Beginning . . .: Delve into the genesis of the project,
casting, re-casting, the DeLorean, sets and overall
pre-production.
— Time to Go: Production stories through the release of the first
film.
— Keeping Time: The score and the songs of the Back to the Future
Trilogy.
— Time Flies: Learn more about how the sequel came about, the
futuristic look, the special and visual effects, recreating 1955
and more.
— Third Time's the Charm: Learn about building a western town, Doc
Brown's love story, the casting of Mary Steenburgen, the train
sequence and completing the Trilogy.
— The Test of Time: Back to the Future becomes a phenomenon!
President Reagan quotes the film, the Back to the Future ride
opens at Universal Studios theme park and fans rebuild the iconic
DeLorean. The film's cast and crew take a look back and discuss
why these beloved movies live on.
— The Physics of Back To The Future: A discussion with celebrity
best-selling author and physicist Dr. Michio Kaku about the overall
appreciation of the science in the Back to the Future Trilogy*
— Nuclear Test Site Ending Storyboard Sequence: Storyboard sequence of
the original proposed ending of the film.*
— 16 Deleted Scenes
— Michael J. Fox Q&A
— Q&A Commentaries with Director Robert Zemeckis and Producer Bob Gale
— Feature Commentaries with Producers Bob Gale and Neil Canton
— Archival Featurettes
— Making the Trilogy: Chapters One, Two & Three: Original 2002 DVD
documentary that takes a look back in time.
— The Making Of Back to the Future Part I, II & III: Provides a
vintage and historic first look at the making of all three films.
— The Secrets of the Back to the Future Trilogy: a televised
special hosted by Kirk Cameron addressing fans unanswered Back to
the Future questions.
— Behind-the-Scenes
— Outtakes
— Original Makeup Tests
— Production Design
— Storyboarding
— Designing the DeLorean
— Designing Time Travel
— Hoverboard Test
— Designing Hill Valley
— Designing the Campaign
— Back to the Future: The Ride
— Music Videos:
— Huey Lewis and the News "Power of Love"
— ZZ Top "DoubleBack"
— Photo Galleries, Including Production Art, Additional Storyboards,
Photographs, Marketing Materials and Character Portraits
— Theatrical Trailers
* Denotes new footage debuting on the 25th Anniversary Trilogy