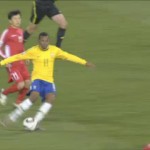 ESPN 3D launched with the FIFA World Cup last Friday, providing coverage of the events utilizing Sony 3D technology. The network promises up to 25 of the matches in 3D from 5 of the 10 World Cup stadium locations, and more live sporting events in 3D throughout the year. Currently DirecTV, Comcast and AT&T are carrying the network. Customers, of course, must have a 3D HDTV and 3D glasses to see the broadcasts. Recent estimates from CEA say less than 1 million people are "capable" of watching the active shutter feeds.
Here's a review and first impressions:
The 3D TV: A Samsung 55″ 240Hz 3D LCD LED.
The Match: Brazil vs. Korea DPR, Tuesday, June 15 from Johannesburg, Ellis Park Stadium.
First of all, if you haven't seen a 3D television image before it's not fun to look at without 3D glasses. It just looks like a projected image that doesn't have its RGB channels aligned. When you put on the glasses, you'll notice the image comes into focus but does darken a bit because of the slight tint on the lenses.
First complaint…wearing 3D glasses sucks if you already wear glasses. Although they seem to fit over many eyeglass frames, it still feels like you are wearing optometry equipment and should be translating numbers and letters off an eye chart rather than immersed in a movie or game.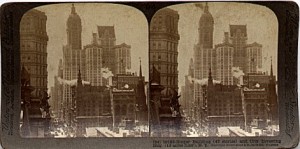 Second complaint…LCD. Although this match was watched on a Samsung "LED" LCD, this 3D TV has very limited viewing angles. If you wanted to have a group of friends over (each owning a pair of $150 glasses) those sitting on the sides would not be impressed at all. If you're not sitting directly in front of this television, you will just see double images. What a disappointment for a television costing almost $3k. Planning on buying a 3D TV? Go plasma.
The main shot, (the elevated camera that follows the ball from side to side), is the most important shot but is unfortunately the least impressive. Frankly, I get more thrills out of looking at one of those old stereographic cards. The problem may lie within the lack of dimension in the shot. There are no up-close objects or distant objects to create comparison. The shot just looks flat, and barely gives any sense of "being there."
Close up shots of players, coaches, and fans are the most impressive. And, playbacks in slow motion are even more impressive. The ball actually looks like it is being lifted off the screen somehow, and amazingly holds its detail. On a side note, audio coverage of the matches has been fantastic. In most plays you can actually hear the ball being kicked as directional microphones follow it wherever it goes. Want to feel immersed? Crank up the audio!
And, the onscreen graphics look great. If anything pops off the screen it's the score overlay which floats in space as if on a different layer of glass. Transition graphics look pretty good although not as impressive as some motion picture 3D motion graphics.
Overall, the 3D coverage is a bit sloppy (if compared to 2D coverage of an NFL game which has had years to be perfected), and appears as if in its infant stages (which it is). But this is to be expected. ESPN was testing the format for about 2 years before they announced the 3D channel back in Jan. 2010. But test broadcasts were presented to limited theater audiences, like the USC vs. OSU college football game in Fall '09. You can expect Sony and other companies to only get better at providing the format.
Is it time to buy a 3D television? If you want to be an early adopter, yes. However, don't expect to have many movies to watch right away. Film distributers are still working on releases of 3D films in the active shutter format. For now, you'll get the most 3D content out of ESPN's planned live sporting events. And, as mentioned above, compare a 3D LCD with plasma 3D before making any decisions. It should be a no-brainer.
3D coverage from Sony is being provided at 5 of the 10 World Cup locations. So far, ESPN 3D has broadcast about about six of those matches.
By the way, Brazil won the match 2 to 1.