Slim prospects for good Blu-ray releases this week, with only a few standouts amongst the bunch.  Criterion is here, of course, but there's nothing that could be called a must-own title for HD… though your opinion may vary especially if you like fine acting (and schlock) in high-def.  Beyond the three titles below, of which only two are seriously recommended, there's some fine performances to be found in The Messenger with Woody Harrelson and Ben Foster as well as Invictus with Matt Damon and Morgan Freeman, and there's some interesting experimental filmmaking from Michael Winterbottom in 9 Songs, which features eight alternative rock acts onstage as well as acts of real, unsimulated sex which should look even more titillating in 1080p.
WHITE SPACE
WHITE SPACE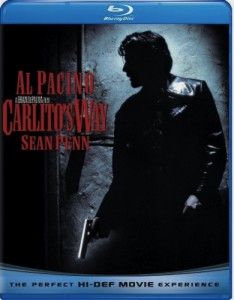 Carlito's Way (Universal, 1993) arrives on Blu-ray this week and is one of those films that find favor with audiences long after an initial, lackluster theatrical release.  Whether due to Brian De Palma's murky noir stylings or the ace performances by Al Pacino and Sean Penn, the film has become a fan favorite and has inspired gangster imitators of its own, mostly in the videogame arena (parts of the Grand Theft Auto series often play like an extended homage to the film).  The story, adapted from the crime novels of New York State Supreme Court Judge Edwin Torres, centers on drug kingpin Carlito Brigante who, after doing a tough stretch in prison, comes out determined to go straight and stay that way.  Unfortunately, Carlito's past gets in the (*ahem*) way of achieving any positive change as he is soon betrayed by good friends, former enemies and up-and-coming gangsters who see him as either an obstacle or opportunity for their own nefarious ends.  Pacino, coming fresh of an Oscar win for his whoo-ah turn in Scent of a Woman, actually modulates himself here and turns in a slightly less showy, more intense performance that is certainly memorable enough and notably tragic.  Sean Penn steals it all away from him, however, with his twitchy, duplicitous creation of frenemy/attorney, David Kleinfeld, a walking disaster about to suck others into his coke-fueled abyss and bad business decisions.  De Palma is in familiar territory, with suspenseful sequences and visual flourishes that may remind audiences of his earlier efforts.  He attempts a noirish-look that allow for directorial choices that play to his strengths, maintaining a gritty urban atmosphere reminiscent of some of the best 70s-era cinema, especially its sleazier latter-day period.  While it may not be the pinnacle of their careers, Pacino and Penn do excellent work (Pacino portraying a Puerto Rican is just fine for pulp work), while Penelope Ann Miller, Luis Guzman, John Leguizamo (Benny Blacno from da Bronx) do some of their best work.  Though Viggo Mortensen can be believable in almost anything, I can't quite get past his faux-Hispanic accent as Lalin, the paraplegic ex-gangster.  The Blu-ray makes this nearly 20 year-old film look great according to pre-release reviews, with a VC-1/1080p transfer with a 2.35:1 widescreen image that reveals sharp detail, deep blacks and fully saturated colors (especially the blood reds) with no bleed.  The lossless 5.1 DTS-HD MA audio mix is also being noticed for clear dialogue/voice-over narration and excellent use of surround channels during action sequences and, in particular, the film's nightclub scenes.  Extras are those to be found on previous releases however, with nothing new in the way of high-def features.  Bonus items include deleted scenes, a making-of EPK, Brian De Palma on Carlito's Way, limited BD-Live access.
WHITE SPACE
One of the worst films of recent memory, Mega Shark vs. Giant Octopus (The Asylum/Echo Bridge, 2009) really can't qualify for so-bad-its-good status, though it does have a few standout scenes that nearly help it achieve that kind of backhanded glory along with a title that cannot help but instill curiosity in lovers of crap cinema.  Featuring acting that veers from completely over-the-top (Lorenzo Lamas in a career-worst, perhaps) to simply read-through worthy (Deborah Gibson, of teen-pop fame), the flick relies on cheesy special effects to carry the action, but with some inspired staging that often leaves the viewer in jaw-dropped disbelief (the absolute highlight features an ill-fated commercial flight, and I'll just leave it at that, considering the monsters involved are sea creatures).  While it is not on par with the best of Ed Wood's worst, the limited sets, straight-to-video performances, uninspired direction and slight, clichéd screenplay all lend an air of carelessness to the production.  In a day and age when limited budgets can be stretched pretty far, and the tools and technology of filmmaking are available to amateurs like never before, it seem strange that something like this can still pass muster as a feature film unless the filmmakers intended it to be tongue-in-cheek campy… even then, this movie simply doesn't work as an example of professional-level filmmaking (check out the bizarre flash-cut editing technique used, as if the movie were about the paranormal rather than a straight-up monster flick).  Still, there's plenty to laugh at, rather than laugh along with, as Gibson helps head a scientific team that seems more interested in filling various flasks and beakers with colorful liquids than in a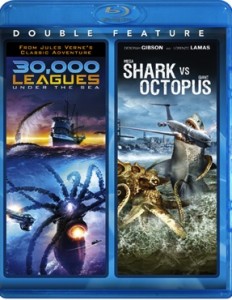 ctually conducting realistic studies of the creature's behavior.  In one scene Gibson and fellow Japanese scientist, Dr. Shimada (Vic Chao, who sounds strangely like velvety-voiced George Takei) stumble upon a possible breakthrough in attracting the monsters via pheromones while taking a break in a janitor's utility closet for some experimental mingling of their own.  The Blu-ray really should feature an MSTK or RiffTrax styled goof for making the movie more bearable, but instead it will offer a transfer in 1080p and with a 16×9 (1.78:1) widescreen presentation that will probably make all the schlock sets, shoddy effects and half-assed lighting look even more cheeseball in appearance than what used to be featured on the Sci-fi cable channel.  Audio specs and bonus features were not available prior to our publication date, but expect English 2.0 Stereo or PCM equivalent with extras identical to the DVD.  There is also a BD double-feature version with another Asylum release: 30,000 Leagues Under the Sea, also starring Lorenzo Lamas… so I guess, consider this big news if you're a fan of Mr. Lamas's thespian skills.  Even in high-def this isn't a Z-grade minor classic on the level of Plan 9 From Outer Space or even a lackluster affair like Snakes On A Plane… so don't get your hopes up.
WHITE SPACE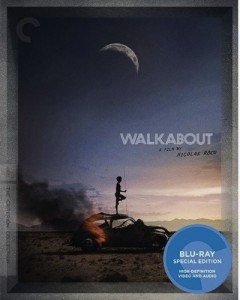 Nicolas Roeg has always been an interesting, visually attuned filmmaker who began his career as a camera operator and cinematographer with a fine eye for composition and ended up a cult director often dedicated to straying from scripts and improvising whole scenes whenever possible, allowing the mood he's built on the set to hold sway within the production. Walkabout (20th Century Fox/Criterion, 1971) is Roeg's first full directorial effort (he's also responsible for the lensing of the films gorgeous, bleak imagery) and as such, greatly informs his latter works in terms of thematic elements and filmmaking style.  Featuring very young performers (notably English actress Jenny Agutter and Indigenous Australian actor David Gulpilil (billed as Gumpilil)), Roeg makes a symbolic statement about survival and "the other" whether viewed from the perspective of an urban boy and girl or a boy from a far different culture with an entirely different understanding of the world.  It's a gritty film wherein survival isn't guaranteed, new discoveries carry mortal risk and nature can be as cold-heartedly brutal as any human actions… though humanity certainly tries to trump it any chance it gets.  Roeg never attempts to explain meanings, but they are there… found in scenes of emotional realism, surrealistic memory and cultural confusion amidst the harsh, mesmerizing landscape.  There are scenes of abrupt violence, but also scenes of poignant beauty that reveal the inner yearnings of the girl and the aboriginal boy, both on the cusp of adulthood, both on a revelatory journey, intent on finding their place in the world.  Criterion has all the details, but you can guarantee that this film, only a little over a decade into its home video release, is getting the loving care it deserves… with as good a print for the transfer as can be found or cleaned up, the image quality should be excellent in high-def.  The 1.78:1 widescreen / AVC MPEG-4 1080p image was struck from a new 35mm interpositive and offers a lossless LPCM monaural soundtrack (the way the film was presented theatrically).  The single disc BD release features an essay from Roger Ebert (that can also be viewed on Criterion's Walkabout site), audio commentary with director Roeg and the lovely Ms. Agutter, as well as a long-form documentary on the career of David Gulpilil (who has been in quite a few excellent films over the course of four-plus decades) along with other treats such as video interviews and theatrical trailers.  This is a fine one to own for any serious video library, and should be a good addition to the high-def titles already owned.  Criterion always does a great job and though this isn't one of their most robust discs (which sometimes come across like a film school in a clamshell case), it is a perfect transfer of a film that, until the late 90s, had been long out of print.  Definitely worth a look if not a purchase.
WHITE SPACE
Here are the rest of the Blu-ray releases for May 18th, 2010:
9 Songs (Palisades Tartan)
American Bandits Frank and Jesse James (E1)
The Day the Earth Stopped (Echo Bridge)
Extraordinary Measures (Sony)
Invictus (Warner Brothers)
The Messenger (Oscilloscope, 2009)
The New Daughter (Starz/Anchor Bay)
Outlander (Vivendi)
The Spy Next Door (Lionsgate)
Valentine's Day (Warner Brothers)
War of the Worlds 2: Next Wave (Echo Bridge)
When in Rome (Disney/Buena Vista)
Get pricing on all new Blu-ray releases for May 18, 2010.
WHITE SPACE