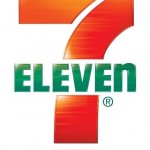 If you've ever found yourself wishing that you could browse for used video games while you're trying to decide what kind of Slurpee you should get, well, you're in luck. Earlier today, 7-Eleven, in a partnership with Game Trading Technologies, announced plans to enter the used game market.
Apparently, 7-Eleven is about to make your re-sale gaming dreams come true. In the announcement, they said that all U.S. franchisees will have the option to offer used video games for various platforms at price points of $19.99 or less. Currently, only about 3,000 of the stores have signed on (which is about half of all stores in America), but the Slurpee pioneer said they hope to have all U.S. stores on board by September.
I don't know about you, but the prospect of picking up a game or two while making my daily churro-and-big-gulp-run is an exciting one. Of course, we haven't yet been told what exactly the caliber of these used games will be, so enjoying an awesome game with my churro might just be some crazy pipe dream.
In any case, this might be a story to keep an eye on. Provided that the games they offer are more than just shovel-ware, 7-Eleven might actually be able to give Gamestop a run for their money. AAfter all, the chances of finding a Slurpee machine next to the used game section at your local Gamestop are next to none.