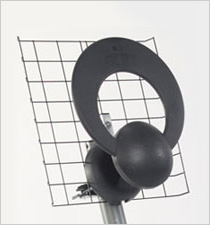 Getting HD channels for free is not rocket science. And, it has nothing to do with an illegal cable hook-up that your neighbor can set up for fifty bucks. Television, in case anyone forgot, is actually free. Way, way, back before cable and satellite, before the HBOs and the Showtimes, people used to watch television without subscriptions. They just sat through the commercial breaks (which we still do by the way), and those commercials paid for the networks to run.
Today many channels are still broadcast over-the-air and simple to tune-in to. All you need is an antenna and HDTV. That's it. And, for the tiny percent of HDTVs out there without built-in digital tuners, you'll need a digital converter box — the same as those offered in the DTV program. If you bought a television after Mar. 2007, it will most likely already have a digital tuner because at that point it became a requirement of televisions sold in the United States. (Refer to dtv.gov for more information on digital television.)
Here's what you need to receive free HD channels over-the-air (OTA)
Antenna
You'll want an antenna capable of both UHF and VHF reception. These antennas may look like a combination of both rabbit ears and a circular antennas, or like the ClearStream antenna pictured above. Try to determine whether you need a uni-directional or multi-directional antenna. If the broadcast stations are fairly close to each other, you maybe able to use a uni-directional. If the stations are scattered around 360°, use a multi-directional. Amazon has all kinds of HD antennas to choose from.
Broadcasts
Major networks ABC, CBS, NBC and FOX all broadcast over-the-air (OTA). The high-definition signal, sent simulaneously with the standard-definition (SD) signal, can usually be found on the first sub-channel of the broadcast number. For example, the high-def signal for channel 5 would most likely be 5-1. Other broadcasts, including the SD version and other programming may be found on 5-2, 5-3, etc. Some of the networks are making use of those extra bands, while some of the bandwidth is just being wasted.
Reception
Choose an antenna, or experiment with different types, to see which gets the best reception in your house or office. Move the antenna around to see where it picks up the most signals. Obstructions such as brick walls are not going to help your signal strength. If possible, get a rooftop or outdoor antenna that can bypass some of those obstacles. You should also consider choosing between a long range, medium range, or short range antenna depending on how far away broadcast facilities are.
Scanning
Sometimes scanning for the digital HD signals is the most frustrating part. If you find you don't have good reception move your antenna and re-scan. Make sure you are scanning for digital channels only, as many tuners will scan for both analog and digital signals. Scanning for analog after June 12, 2009. Try doing this a few times to find the best positioning. For the best positioning of your antenna, refer to AntennaWeb for local broadcast facilities and which way to direct your antenna.
Need to purchase a DTV converter? View a list of DTV converters available at Amazon.
Free TV on your PC
There are also devices to watch TV for free over-the-air on your PC. USB dongles such as the Elgato EyeTV allow you to watch TV, schedule and record shows all on your personal computer. The high-definition broadcasts are just as available on your PC as they are for your TV. Cell phones are also coming out in 2010 that can receive local TV signals through what is called MobileDTV. Although you wouldn't actually call those signals HD, the concept of having free digital video streaming over-the-air is still exciting.
[amazon_link asins='B073ZXRD1X,B017JEF126,B00DNJZ58M,B0024R4B5C' template='ProductGrid' store='API-user-hdr' marketplace='US' link_id='dfaff4ee-d06e-11e7-a9d9-334cfee8a6d7′]