One of the highlights of CES 2010 was the hype about local broadcasts "going mobile" and essentially creating a new bandwidth for video delivery to smaller sized devices including cellphones, portable televisions and automotive displays. The signals are delivered alongside the same 6MHz channel your digital standard and HD signals are sent.
Picture this: Your at a family outing during an NFL playoff and you're out of sorts thinking about missing the game. Just take along your portable digital TV or cellphone and with a decent signal you'll be able to watch it anywhere. Or better yet, if the technology works as promised, you'll be able to watch DTV while on a jog. The ATSC has even successfully tested mobile DTV reception at speeds up to 100 miles per hour.
ATSC Mobile DTV, or Mobile DTV, is the technology enabling a smaller H.264 video/audio stream to run simultaneously along current digital channels (which include both standard and high-definition). The devices, whatever they are, will need some way of receiving the signal. USB dongles, portable receivers and antennas are among the most common add-ons. Netbooks and laptops are also being designed with built-in Mobile DTV receivers.
So what makes this so different from portable TVs that were used back in the analog ages? First of all the image is digital. That means there will be no snow, no color channel shifting, no rolling frames. If the signal is good, the image will be perfect. Secondly, the chips will enable many devices to receive the digital signals, not just televisions.
Mobile television can also be found in other forms such as paid subscriptions to mobile phone networks or IPTV services. But what makes Mobile DTV so appealing is that it's free over-the-air. Combine that, with the fact that DTV broadcasts are live and local, and you've got a great tool for staying in touch with local events, weather, traffic and news. Studies by the Open Mobile Video Coalition (OMVC) show half of mobile device owners would be willing to watch commercials if given free access to programming.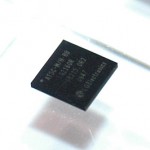 From a different perspective, what may make Mobile DTV attractive to television broadcasters is the potential of premium content. A broadcaster might purchase paid programming from a network like CNBC or Discovery Channel and offer it by subscription alongside the free (advertisement-based) channels.
Mobile DTV has been in development since 2007 but it wasn't until October '09 that the ATSC (Advanced Television Systems Committee) approved the standard for Mobile DTV. This spring, a test run of Mobile DTV will take place in Washington and will include approximately 18 channels and several hundred Motorola DTV units.
LG displayed one of the first Mobile DTV players at CES 2010 (the LG DP570MH) which also serves as a DVD player. The $249 portable TV is expected to hit shelves this spring. The company also displayed its ATSC mobile DTV chip, which can be used in various devices for receiving digital transmissions. PC dongles from DTVinteractive and Pixtree, a prototype Mini notebook from Dell, and a portable DVD/TV from Audiovox were among other Mobile DTV enabled devices on display at the convention.
How will Mobile DTV be embraced in 2010? According to the OMVC, Mobile DTV users could range from 25 million to 100+ million users worldwide by the end of 2010. That is, of course, if manufacturers can get that many Mobile DTV-enabled products on the shelves.