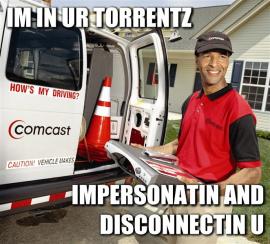 Last week Comcast won a big victory in the U.S. Court of Appeals that threatens the F.C.C.'s ability to regulate the Internet (in this case, keeping it wide open via the guiding principal of network neutrality).  Comcast, had moved forward with a plan to regulate how much bandwidth speed customers who used P2P file sharing sites or programs like Bit Torrent could have access to, thereby restricting Internet usage even though those customers paid for open access with the same network speeds as every other Comcast subscriber.  The F.C.C. has long take a position that supports an wide-open Internet that allows consumers to have access at broadband speed levels without restriction on what content is up or downloaded.
Many other companies, like Google, Skype, Yahoo support a wide-open and largely unregulated Internet (ironically, if it must be regulated at all, then the regulations in place should be the least restrictive giving users the most access without ISP interference).  ISP's see it a bit differently, as do telcom and cable companies like Comcast.  They'd prefer tiered service levels that restrict bandwidth based on cost and usage.  By creating an artificial scarcity of broadband service, they could charge virtually whatever the market will bear for various levels of Internet service and/or usage… but the real issue is whether the conglomerates can prefer certain content over another or restrict content altogether.
Comcast isn't shy about wanting to block P2P users and services like Bit Torrent, but the greater implications are what a huge dominant player like Comcast might do with other services or sites it dislikes (or feel is competitive with its own services).  Time and time again, users have seem issues like these pop up with companies like Apple wanting to control their device, but this is a bit different as it affects the Internet (famously described by former United States Senator Ted Stevens as a "series of tubes") as a whole and how Americans can access their favorite sites and services.  In the end, I see it as affecting whether a company like Comcast has control over what you see and hear as VOD services and music-streaming services grow and become popular with mainstream consumers.
Today, the New York Times reports that the F.C.C. is going to move forward with their expansion plans for broadband that favors the consumer regardless of the court ruling by finding a work-around… possibly classifying the
Internet/broadband as a utility service over which it would have more control, wresting that power away from the conglomerates and corporations who wish only to profit from putting the squeeze on broadband service.  The F.C.C. claims they can work within the Appeals Court's ruling while still putting the key elements of its National Broadband Plan into place, which includes more rural broadband, greater consumer access to broadband networks and wireless services.
The fear by some is that once Comcast or another large engulf-and-devour type company gains control over what type of content can be carried over its ISP networks, you can kiss your ability to see sites like Hulu, JustinTV, Boxee and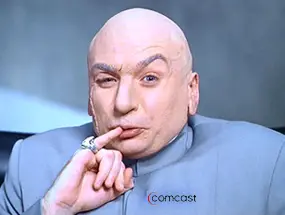 other services goodbye.  The great what ifs run the gamut from hypotheticals such as What if Company A no longer wants to play nice with Apple and wants to form their own service for content rental and purchase… Can it restrict access to iTunes IP information and thus block you consumers from use? Or, What if an ISP that is also a cable company no longer provides access to Pandora Radio in order to boost their own music streaming service (at an additional cost to your regular service)?
Congress, of course, isn't fond of Federal commissions and agencies that overstep their bounds (meaning they're creating de facto legislation by way of regulation), and they're now dickering on whether the F.C.C. even has a right to do such a thing… and you can easily guess who's taking sides on this one with GOP Senators taking a dim view of the F.C.C.'s gumption and Democratic Senators playing to the public… as Senator Byron Dorgan (D – N.D.) said, "I love the free market, but it needs a referee."