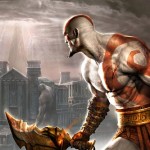 If you're suddenly in the market for Sony's PlayStation 3, good luck trying to find one.  Many retailers both on and offline are reporting low or no stock as of the past few weeks, and most cite the potential demand for God of War III, the newest God of War title exclusive to Sony's gaming platform, as the reason. 
By and large, the PlayStation 3's main weakness has been its price-point (higher than Wii or XBox), which Microsoft's Aaron Greenberg recently played up as owning to the PS3's reliance on Blu-ray discs to deliver games.  However, the recent price-cut by Sony to usher in the Slim version of its multi-media device has bolstered sales of late, but even with the drop in price, there's been no serious killer title, other than perhaps Uncharted 2, to carry the day and provoke more gamers to step up and purchase a PS3, until now (the Metal Gear and Gran Turismo series don't really count as they're not new titles for PS3 that create gamer excitement and drive sales).  While the Xbox 360 has generally had the Halo series to pump up hardware sales, and most recently had a hit with the Left4Dead sequel that's turning into its own exclusive franchise (Xbox and Windows), the PS3 has mostly been without the exclusivity of a killer hit and potential franchise designed for PS3 gamers only.
God of War III, the first GofW title to support output of 1080p HD resolution, seeks to remedy that, and as it was released today amidst mostly glowing reviews, Sony looks to have a killer hit on their hands.  Featuring Kratos, the beloved yet suicidal Spartan army captain, the game looks like a solid effort designed to showcase the best of the PS3's abilities.  Sony, happy to have a hit and the early adopter chatter that comes with it, must be quite happy with the spike in PS3 sales.  Expect them to be pushing God of War III as their banner title for the remainder of the year, long into the holidays.