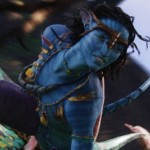 It was bound to be thus… Fox has announced that as of Earth Day, April 22nd you can re-visit planet Pandora, and mate before Eywa at the Tree of Voices direct from the comfort of your sofa. The highest-grossing motion picture of all-time is set to arrive in stores on both DVD and Blu-ray, but you know in your heart of hearts and what your eyes see that Blu-ray is the only way to go with this cinematic experience. And now a caveat of sorts… In order to provide the ultimate Blu-ray (and DVD) viewing experience, the Twentieth Century Fox Home Entertainment release will be sold without special features, menu options, trailers, studio promotional material, etc… nothing but 162 minutes of James Cameron's ode to technical wizardry and mediocre storytelling environmentalism. The L.A. Times reports that the film will NOT be released in 3-D as the home-version of the technology (as previously stated at HD Report) is still in the baking stage and is not quite ready to serve.
That said, the DVD/BD efforts due to arrive on Thursday, 4/22 will be in as uncompressed a format as the film's length allows. This means you'll still get an ultimate viewing experience—similar in theory, if not effect, to Superbit-DVD, which offered the best DVD viewing experience for its time which was only about five years ago, folks… long in tech years—but without the 3D effect that blew so many minds when experienced in theaters. There will be greater detail, certainly more depth depending on how they transfer the movie, but without 3D (and the extras many DVD/BD buyers have come to expect) will folks want to experience the Blue Man Group perform Dances With Ferngully?
Fox is betting a big fat yes and expects Cameron's magnum opus to provide big fat profits that surpass all previous DVD/BD releases from any studio. At a high MSRP, they might be right… Expect the single-disc version to have a MSRP of $29.98 for the DVD and $39.99 for the Blu-ray. Fox anticipates big discount and other retailers to mark the discs down to a more comfortable price point, but still… for a disc without extras and just the film, you're paying a lot for the privilege of ownership. Especially since Cameron and Fox have leaked the news of an "ultimate" multi-disc Blu-ray version to hit store shelves in November and the 3D version may yet arrive sometime in 2011.
As Warner's successful Blu-ray (and DVD) release of The Dark Knight proved, you can cut back on extras (like that, er, um, missing Christopher Nolan commentary) and provide a great viewing experience with the additional room… it's why 2- or 3-Disc sets are often created, aside from the higher price to consumer. But if consumers expect a double-dip for a title, will they still be willing to pony up the bucks? If history proves correct, probably so, but consider… Cameron must have loads of making-of extras he filmed as he made such a huge technological leap and created a true landmark in cinematic history. Perhaps Fox might release some of those via BD-Live, though it's doubtful as most of the studios haven't yet gotten serious about truly utilizing that BD gimmick, which would make a wait for the home 3D release of Avatar a little more bearable.