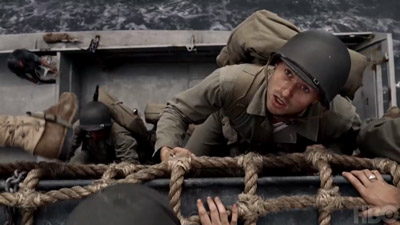 Even if you don't subscribe to HBO you've probably seen commercials for the upcoming series The Pacific from the makers of the Band of Brothers. The Pacific, honing the tagline "Hell was an ocean away," is a story that follows the journeys of three U.S. Marines – Robert Leckie, Eugene Sledge and John Basilone — as they engage the Japanese following the attack of Pearl Harbor in WWII.
The Pacific was created by producers Tom Hanks, Steven Spielberg and Gary Goetzman who brought us Band of Brothers (which took place on the European front). This time, the story takes you to the Pacific Theater and the missions of the 1st Marine Division. Episodes will cover the first battle on Guadalcanal, the rain forests of Cape Gloucester, Peleliu, Iwo Jima and Okinawa.
The series is based on books by Robert Leckie and Eugene B. Sledge, who also get some writing credits along with several others. Much of the series will focus on the "no surrender" war mantra of the Japanese, and the demonization of the enemy which came from both sides.
The premiere of the 10-part series of The Pacific airs Sunday, Mar. 14 at 9:00 PM. The show is available in HD with a 1.78:1 widescreen aspect ratio and Dolby Digital for audio.