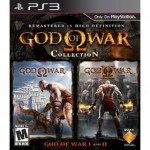 God of War I and God of War II have been re-mastered and burned to to a single Blu-ray disc, bringing the award winning game to Playstation 3 for the first time. The original PS2 games are now rendered in hi-def at 720p (60fps) with full screen anti-aliasing for smoother game play.
Trophy support has also been added for both God of War titles, giving players additional challenges in the quest for bronze, silver, gold and platinum awards.
The God of War series games are developed by Sony Computer Entertainment Studios, Santa Monica Studio. God of War Collection on Blu-ray disc (now available to order) retails for $39.99.
God of War III is set to be released in March of '10. The game will pick up where God of War II left off and introduce new weapons like the Cestus (powerful metal gauntlets) as well as trophies. Pre-ordering
God of War III will give you access to the E3 2009 demo and an in-game Apollo Skin once you have completed the game.
[HTML1]
God of War Storyline
Set in the dark world of ancient Greek mythology, players take on the role of Kratos, a Spartan warrior. Plagued by the nightmares of his past, the ash covered warrior would do anything to be free of his debt to the Gods and the memories that haunt him. For ten years he has labored for Olympus, now on the verge of losing all hope, the Gods have given him one last task. Destroy Ares, the God of War. Armed with the deadly chained Blades of Chaos, Kratos will have to overcome armies of mythological monsters, legions of undead soldiers, and amazingly dangerous and brutal landscapes. (Sony)
God of War II Storyline
God of War saw Kratos, a mortal warrior, set upon an epic quest to dethrone a God. But his journey did not end there. In God of War II, Kratos sits atop his Olympus throne, as the new God of War – far more ruthless than Ares ever was. To end his continued torment, Kratos must journey to the far reaches of the earth and defeat untold horrors and alter that which no mortal, or god has ever changed… his fate. God of War sets an epic stage for a devastating mythological war to end all wars. (Sony)
God of War III
God of War III takes place right after the events of God of War II, with Kratos upon Gaia's back eager to exact vengeance on the gods and make them suffer. As seen in the trailers, the whereabouts of the Blade of Olympus is unknown, even though Kratos had been wielding the blade at the end of God of War II. Little information has been released on the battle between the Gods and Titans that will explain the end of Greek mythology.[11] A more recent screenshot shows Helios on his knees with a bloodied face, Kratos is also in the picture grasping the god's head, about to tear it off with his bare hands.[12] A game demo released at E3 2009 shows Kratos, with assistance from Perses, bringing down Helios and his chariot and then ripping off the god's head. (Wikipedia)