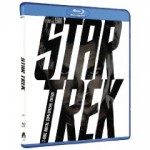 Could Star Trek be "The Biggest" Blu-ray/DVD release of the year? You might think so with all the hype about the film's disc release tomorrow. We haven't seen this kind of hype for an entertainment product since, well, last week's Call of Duty release. Well you can get your Star Trek Blu-ray Disc before anyone else by hanging out at Blockbuster tonight when the clock strikes midnight.
Select Blockbuster locations in 20 cities will hold release parties where you can rent or buy the disc. Pre-release screenings will be going on at the locations starting at 10 p.m., as well as memorabilia giveaways such as posters and comic books.
Star Trek will be available as both a single-disc DVD, two-disc DVD, and three-disc Blu-ray version. The Blu-ray set includes a digital copy, special features, and game demos. 1080p video is formatted in MPEG-4 AVC with Dolby TrueHD 5.1 audio. Widescreen aspect ratio is 2.39:1.
Call your nearest Blockbuster for more details. If you can't stay up that late you can order Star Trek on Amazon.com.
Here's the list of locations hosting the release parties:
Atlanta: 1544 Piedmont Road
Boston: 481 Harvard Street, Brookline
Charlotte: 8726 J.W. Clay Boulevard
Chicago: 6409 W. Grand Avenue, Gurnee
Cleveland: 1855 Snow Road, Parma
Columbus: 2550 N. High Street
Dallas: 3501 McKinney Avenue
Denver: 101 W. Hampden, Englewood
Detroit: 27942 Woodward Avenue, Royal Oak
Houston: 1917 West Gray
Las Vegas: 9785 S. Maryland Parkway
Los Angeles: 17124 Hawthorne Boulevard, Lawndale
New York: 2300 Dixwell Avenue, Hamden
Orlando: 11849 East Colonial Drive
Philadelphia: 6016 Rte. 130 North, Delran
Phoenix: 2805 North Scottsdale Road, Scottsdale
San Diego: 5620 Balboa Avenue
San Francisco: 3914 Rivermark Plaza, Santa Clara
Seattle: 4715 25th Avenue
Washington, D.C.: 815 Rockville Pike, Rockville