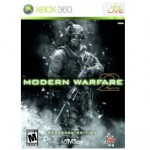 Everyone knew that Call of Duty: Modern Warfare 2 would have a big first day. Several retailers were reporting record-breaking pre-order numbers and people even showed up to the midnight launch at my local Best Buy. I would have interviewed some of those people to get the "word on the street" about the Modern Warfare 2 release, but I avoid talking to people in my neighborhood after 10 pm.
Even with a big launch expected, the preliminary day one sale numbers are still impressive. According to VGChartz, Call of Duty: Modern Warfare 2 sold over 7 million copies the first day on shelves. This day one number is big enough to beat the 6 million copies that Grand Theft Auto IV sold in its first week for both PS3 and Xbox 360. I wonder what the developers of Modern Warfare 2, Infinity Ward, do in reaction to this type of news — replace all the regular water fountains in their office with ones that dispense chilled champagne?
America helped carry the launch by purchasing 3.7 million copies. Right now, about forty different political groups are trying to figure out how that number best helps their organization. I predict that the anti-gun lobby has a few long nights ahead as they try to spin this one.
What do you think about this launch day figure? Did you help contribute to that 7 million? Personally, with Uncharted 2
still lodged firmly in my PS3, I can"t afford to get mixed up with another shooter. It wouldn't be fair to Drake. I saw him crying the other day while I made him scrabble up the side of some hill. At first I thought he was just in pain from all those bullets I was too clumsy to help him avoid, but then he locked his weepy eyes with mine, and I could see into his heart.
Yes, the graphics are that good.