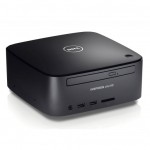 If there ever was a battle between desktops I'd love to see one between the Mac Mini and the new Dell Zino HD, which basically takes up the same real estate as the Mac Mini but with an extra inch-and-a-half and more curvaceous profile. The Zino HD (officially the Dell Inspiron Zino HD – why they need the extra "Inspiron" brand I don't know) measures 8×8 inches by 3.4 inches high and is being marketed as a compact hybrid entertainment system/home PC.
The Zino HD is hi-def ready, meaning it comes with an HDMI port (see back photo) and optional Blu-ray Disc drive. 4 USB ports get all your devices connected (with two of them on the front) and also 2 eSATA ports, VGA, RJ45, and line-in/line-out connections.
Processors on the Zino HD line run from 1.6GHz (AMD Athlon 2650e) to the higher-end Dual Core Athlon Neo X2 6850e running at 1.8GHz. It can be loaded up with 8GB of RAM and 1TB hard drive (which should hold plenty of video if used for entertainment). Graphics processing starts with the ATI Radeon HD3200 for the low-end $229 model and the Radeon HD 4330 512 MB that comes with the $777 model.
It's got the new Windows 7 Home Premium installed but you can have your choice of operating systems from Windows Vista Home Basic through Windows 7 Professional.
If you're feeling colorful the Zino HD can be personalized with a choice of 10 different colors and designs (see photo), or keep it simple with the default "Piano Black".
The Dell Zino HD is now available at Dell and Amazon.com
.