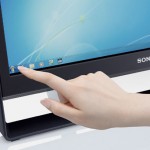 Sony's new VAIO L Series multi-media PC comes touch-enabled, allowing you to navigate your PC and control your HDTV or DVR. Optional features include a Blu-ray Disc player or player/recorder, NTSC/ATSC TV Tuner, and up to 1TB (7200rpm) hard disk drive.
The multi-media PC, which Sony is also marketing as a 24-inch HDTV, is built with a WUXGA (Widescreen Ultra eXtended Graphics Array) at 1920×1080 resolution for full high-definition.
Out-of-the-box you get the PC, wireless keyboard and mouse, remote control, power cord, wall mount plug adapter, and 6 AA batteries.
Select models include a built-in digital tuner to capture over-the-air television, all you need is an antenna. An optional HDMI input is available so you can use the L series as an HDTV connected to a set-top-box or gaming console.
The touch-screen capability will be interesting to try. According to Sony, the touch feature allows you to do anything you would with a mouse or keyboard. When working with photos, you'll be able to edit them by rotating, zooming, dragging and scrolling without a mouse.
A fully loaded VAIO L series will pack an Intel Core 2 Quad processor running at 2.66GHz (Q8400S). For graphics display, a dedicated NVIDIA GeForce GT 240M graphics card with 1GB dedicated VRAM or NVIDIA GeForce G210M with 512MB dedicated VRAM is available.
The VAIO L Series All-in-One PC and HDTV will retail for $1300 and is available for pre-order at SonyStyle.com.