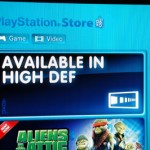 The Sony PlayStation Store is not only a place for games (as described in Part II of my PS3 Slim review) but also for movies and television shows.  Unlike Neflix's all-you-can-watch-out-of-our-existing-streaming-library plan, which mostly offers a standard-def video experience on par with VHS playback or computer-quality streaming (lots of big fat pixels here n' there, colors that bleed and an image that's generally muddy), PlayStation Store patrons have a wider choice of true standard-def DVD quality or HD-quality films.
However, as with Netflix's Instant Watch, not all titles are yet available in HD.  This will soon change, as both Netflix and Sony are completely on-board with the HD experience in home theater, and should be offering more titles for HD-quality playback in the near future.  For now, SD content can either look as crappy as a poorly rendered YouTube video or as good as a general release DVD… on the average it is somewhere in between.
The main reason Netflix's non-HD streaming service offers somewhat marginal playback quality via average broadband network speed is that nothing is stored, only buffered up to a certain percentage.  Netflix offers very good buffering (depending on your broadband speed) to present an image that's virtually stutter-free and never seems to hang or pause suddenly; however, the compromise is in the compression.  Some of the 720p HD titles look very good, while some of the standard-def titles look downright crummy.  In this case, score one for the PlayStation Store, which allows users to purchase or rent movies and download them directly to the PS3's hard-drive.
If you have enough hard-drive space (and with the recently released 250GB PS3 Slim, you ought to) you can easily add more games, movies/TV and other content offered through the PS Store.  The playback, via the hard-drive, is much like playback from any other DVR that has captured a high-quality signal or download.  Since HD-quality is only as good as the source content, and Sony offers a solely legal service, the playback for SD offerings is generally excellent… as good as DVD-quality in most cases, but not quite as crisp looking.  Upscaled (and re-mastered for HD) DVD looks far better in comparison.  Playback of HD offerings is good, however, it's not 1080p and to my eye looked only capable of attaining a 720p/1080i quality image.  Black levels are hardly as solid as most BD's offer, while fast-moving sequences offer plenty of digital artifacts that make the image swim and appear to lose focus or depth.  Audio quality generally leaves a LOT to be desired and is not up to par with even the most middling DVD experience.
[HTML1]
Technically, 720p is HD-standard, but is a less than true-HD quality image and sub-par audio worth the extra spend…?  Probably not, unless you own multiple Sony devices, as sharing of PlayStation Store purchases is allowed between PS3s and/or PSPs (per the DRM).
The cost, size and download type of most offerings is as follows (based on a few selected samples):
Most Trailers in SD/HD are free for the taking.  Similar to Apple's HD-trailers (via Apple-TV) in quality and ease of procurement.  In some cases, this strange concept of "free" extends to selected movie featurettes/EPK's available through the PlayStation Store.
HD content via the PlayStation Store seems to be no better than 720p, much like Netflix's own HD streaming quality (though stored content plays back much better than streamed in most every case).  Audio quality is supposed to be at DD5.1, but seems to attain marginal ProLogic quality at best.  The full dimension of multi-channel sound is simply not yet there.
Purchased movies may be viewed unlimited times, and for any length of time during playback.
Rental movies must viewed within 24-hours of playback or within 14 days of rental procurement (then within 24-hours of playback), thereafter they are unplayable due to DRM.
Recent TV shows such as House are available to own per season, per episode at a cost of $1.99 for SD and $2.99 for HD.  Quality is fairly good.
Movies for Rental can be had for as little as $2.99 in SD and $4.50 in HD.   Movies can be purchased for as little as $3.99 to $14.99 in SD.  Virtually all HD titles for purchase are in the $14.99 to $19.99 range.  If the title offered is a newer release, expect the price to be increased by $1 – $2 in most cases (both for rental and purchase).
Typically, most SD movie downloads are in the 1GB to 4GB range depending on the length of the respective film.  HD movies range in size from 5GB to 9.5GB depending on the same.
Most TV shows downloaded from the PlayStation store average anywhere from 350MB, SD/1.3MB, HD for a 30-minute show (roughly 25 minutes) and 725MB, SD/2.7GB, HD for a 1-hour show (roughly 45 minutes).
For example:  Watchmen Director's Cut (187mins) in standard-def takes about 3.0GB of space, while the Theatrical Cut (163 minutes) in SD takes up 2.6GB (the HD version of the Theatrical Cut takes up 8.1GB).  An episode of The Watchmen Motion Comic (average 27 minutes) takes up about 448MB in the SD version.  Sometimes only SD versions of the films and T.V. shows are available.  HD titles are currently limited.
All content (games, movies, TV) can be loaded in the background.  For movies and TV, progressive downloading is offered, which means that you can begin watching the content during the downloading process.
There is a wide selection of current cinematic content (popular stuff, straight-to-video fare, and cut-out bin spectaculars).  TV channels represented (though not all shows are) come from across the pay-cable spectrum: 20 Century Fox, A&E, FX, HDNet, Loony Toons, MGM Library, Showtime, Sony Entertainment, MLB, etc. etc. ad absurdum.
You can preview short segments of movies and TV shows within a floating pop-up window.  Image quality on the small pop-up is quite good but may not necessarily reflect the quality of actual SD/HD content that can be downloaded.
Size matters.  Most consumers choosing between the 120 and 250GB PS3 Slim models should consider the size and number of games they might download (average size: 20MB to 1GB for full games) and also factor in how many movies they might want to squeeze onto the PS3's platters before purchase.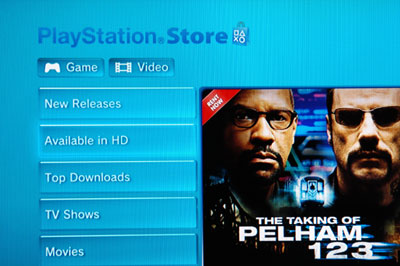 The PlayStation Store experience is about as user-friendly as Apple's iTunes store, but with certain exceptions that don't offer confidence when purchasing or renting content.  At this time there is no way to rate content nor review it.  When shopping at online retailers like Amazon or iTunes, especially when purchasing intangible items such as digital content, it's worth having previous buyer experiences handy to make informed purchasing decisions.  Sony is asking users to make blind purchases without the benefit of weighing options by dint of user reviews, and that's a tough sell in today's online shopping marketplace.
In addition to games, movies and TV content, the PlayStation Store also offers a number of desktop themes and wallpapers for your PlayStation's XMB menu background.  The selection is mostly one of colorful characters and props from various PSP games, though there are also nature, sports, movie and lifestyle selections as well as good ol' anime porn (of the Sailor Moon cheesecake variety).  The average price for these is between .99 cents and $1.99.
Note that users should familiarize themselves with all Sony TOS policies regarding both purchased and rental content.  Sony is notoriously difficult to get a refund from, and there may be times when content does not download correctly either due to Sony's fault or the fault of your home network.  Caveat emptor.
I've yet to even begin to tap into the other PlayStation features such as chat, Qore (an online gamer lifestyle network), Pulse (Sony/PS/PSP news and info) and the PS3's ability to purchase and store music (Sony's lame attempt to unseat iTunes… the music selection at the Store is mostly from past PS/PSP video games).  For these areas of the PlayStation Store you're on your own to explore them and see if they'd be worth returning to.
Primarily, you'll get the most use out of the PS3 Slim as a high-def gaming machine or Blu-ray/DVD player.  Of course, the PS3 Slim never tries to stop being an "everything" machine, even if you have no interest doing things such as storing your own content on the device.  Yes, that's right, you can also store your own movies (formatted for use with PlayStation depending on codec), third-party games (this one you'll have to figure out yourself, but it's possible), photos and music all directly into the PlayStation 3 Slim using a USB storage device or by streaming it to your PlayStation from your computer using a PS3 media server for PC's or Macs.  If you have your own digital library of goodies, then perhaps you'll never need to visit PlayStation Store or use Netflix Instant Watch.
I'll have more on the Netflix/PS3 experience in another article with some movie reviews coming up to.  'Til then… So much to watch, so little time.