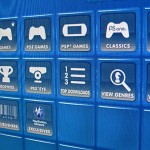 Part II…  Account Setup and the PlayStation Network Experience: Games.
Took about a week, but after much playing around with the new PS3 Slim, I can say it more lives up to the hype of Sony's marketing and has much potential to truly be an "everything" device as advertised.  The PS3 also acts as a bridge between the 1080p high-density/high-definition Blu-ray format and Video-On-Demand, an intangible format that downloads a variety of media for your viewing and listening pleasure (and while not all titles are yet in 1080P HD, it won't be long before they will be).
Initial setup of the PS3 (covered in Part I) was simple, straightforward and did not consume a vast amount of time.  From there, however, you may want to set aside a few hours to the next steps (and enjoyment of the system)… particularly, the setup of your user account and access to the PlayStation Store and other online treats.  The PlayStation Network is Sony's conduit to your living room (and your wallet).   It's what allows Sony to proclaim the device as the "Everything System," and though it still won't give a good massage or wash the dishes, you can pretty much see where Sony wants to take this thing in future expansion and as the preferred choice among hi-definition home media centers.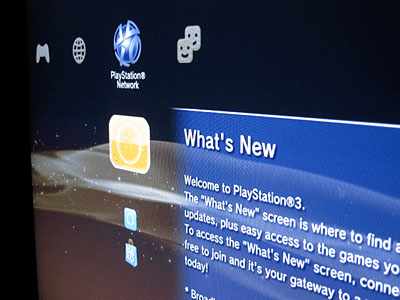 After setup of the device and wireless DualShock controller, you are set to head into the PS3's menu system which consists of a horizontal bar of menu icons that are either in full color or softened in an outline to show which are currently active or in use.  The upper-right corner of the screen initially contains only the day/time, but that will change as you proceed through the account and PS Network setup.  Again, this part means setting aside some time…  about a half-hour to an hour depending on your speed of navigating the PS3's virtual keyboard (very similar to the TiVo way of data entry) as well as coming up with usernames, passwords and such.  There's the whole question/answer rigmarole to get through, but that's par for the course in setting up user accounts.
Users will immediately notice on powering up the PS3 that the screen will feature a "What's New" window with news, updates, and a list of recently played games (via the PS3 Network).  The PS3 Network can be accessed at various points in the menu… Sony obviously wants us to login, play and spend there as much as possible, so getting into the Network is generally a cinch.  It is free to create an account, though a broadband connection is absolutely required.  As Sony includes 802.11b/g Wi-Fi built into the unit, rather than needing a USB adapter like other gaming systems, you'll generally want to use wireless device.  If you're still using Ethernet cables to port your network connectivity, it's finally time to get with the program and purchase an inexpensive (but not "cheapo") wireless setup… Less cables, less hassle, more fun.  If you have a newer N-router (rather than b/g), don't sweat it… the N-series devices are backward compatible with the b/g standard and it's doubtful you'll notice any slow down in your online experience.  Setting up the wireless network to work with the PS3 is similar in the way TiVo handles it… but it seems to get and hold the signal a lot better.  Of course, stick with a top-router like Airport, Linksys or Netgear and you'll probably have a better time with network connectivity.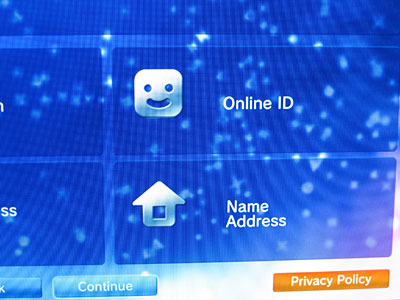 The PS3's main menu also offers a way to communicate directly with friends via the network in addition to direct access to games, demos, add-on packs, trophies, and other media (movies, trailers, screensavers, etc.).  Under the PS3 Network menu there's an icon for Sign-Up, and that immediately takes you into the question/answer format using the onscreen virtual keyboard.  If you know your way around Sony's ubiquitous DualShock controller then navigating through the required fields (not many optional ones, mind you) is easy.  I set up my PSN master account by entering all the most basic personal info… name, address, date-of-birth (keep scrolling, old man) and create a user ID, password and screen name with avatar photo (mostly a bunch of Sony icons and characters from prior PS games).  After the general setup of the account you're given the option of using the various networked features… and immediately presented onscreen marketing for the various movies, games, and demos offered in the PlayStation Store.  The Store is setup much like an iTunes-styled experience, but I think it is restrained and more user-friendly… just a whole lot less complicated with an icy simplicity to its onscreen design, including menu and search functions.
Within the PlayStation Store users/shoppers are given access to straight-up PS games. Some are made exclusively for the PS3 and take advantage of the newest high-definition rendering technology.  Of course, it's well known that if you have older PS1 games you can play them on all PS3 models, but alas alack only the initial launch models of the PS3 can play PS2 games via hardware emulation.  The PS3 Slim lacks the ability to do this, offering no backward compatibility for PS2 disc-based games.  PSOne Games (as they're called) are available in the game section of the Store, and though I've yet to try one out, all the major PS1 titles seem to be represented (Resident Evil 1-3, Final Fantasy I-Tactics and other favorite titles are there) though there's some glaring omissions (Gran Turismo, for instance).  Nevertheless, it's nice to see PS1 games there, conveniently onscreen, for the taking.  I'd love to get a copy of Bushido Blade myself (loved that ol' PS1 hack n' slash).  Game cost is comparable to most other online and retail game trading stores.  You can expect to pay $5.99 for Medal of Honor (takes 448MB of space on the PS3's platter) and up to $9.99 to see Lara Croft when she was just a hot looking nobody in a tight-fitting outfit (TR only takes up 211MB… so, I gather pricing is based on the game's remaining popularity).  Hey! But what's that you say?  You also want access to the PS2's amazing array of games via the Store?  Well, Sony hasn't quite rid itself of that moneymaker yet and isn't offering the PS2's games via the PlayStation Network… You're outta luck, pal.  The PS2 gaming console continues to sell quite a few units as we approach 2010, and Sony feels having two gaming cash cows is a good thing.  So no PS2 games on the PS3 for you, bub!  When enthusiasm over the PS2 device wanes, then we might begin to see those titles on the PS3 via the PlayStation Network (it's doubtful Sony will ever bring back backward compatibility for disc based games).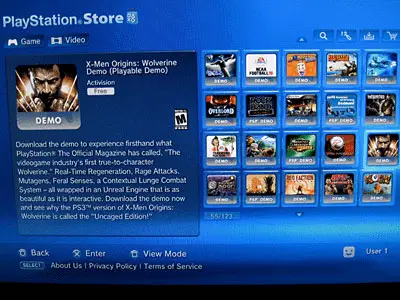 The PlayStation Network also offers a variety of downloadable games from top producers like Konami, Gameloft, EA and, much like Apple's App Store, also offers titles from smaller producers and independents.  Some of the titles are exclusive and available only for download via the PS3.  These games tend to retail for a little less than full PS1 downloadable games, and are much less expensive than PS3 disc-based titles.  Some of these games are designed for high-def screens while others are reminiscent of a simpler polygon era.  Many of these games appear to be exceptionally addictive, but since I'm penniless sitar player writer and don't have a lot of scratch for the variety of games to be had, I settled on one.  Zombie Apocalypse appeared to offers much promise for a gore-laden good time.
After I first download the Zombie Apocalypse demo to get a feel for the game (the demo was fully robust, limited by number of levels and other game aspects… users get a real good idea of gameplay), I splurged on the full version.  At $9.99 it's one of the pricier games, but I figured I'd ditch dinnertime to play anyway and went hungry to experience the sensation of being a true survivor in a virtual zombie-infected environment.  I was not disappointed in the least.  Gameplay was exciting and full of furious sound and violence… I had a great time playing it and spent most of the evening trying to stay alive at all costs.  Totally worth the price…  and hey! There's a demo, too… totally free with a few levels of full play.  Speaking of demos, the PS3 offers so many to choose, you might as well begin trying to fill up that 120GB of space (soon to be expanded to 250GB!! Holy shnikes!).  Besides demos for the exclusive full-charge downloadable games, there are demos of current and upcoming PS3 titles.   I really could not resist giving Batman: Arkham Asylum a shot. ZA's demo and full game (3 days vs. 50 with other levels) takes up 741MB of disc space while the downloadable Batman demo took up 1037MB (and took roughly 20 minutes to download/install).
Game downloads can be done in the background revealing the PS3's multi-tasking capabilities, and makes a whole lot of sense during the downloading of larger games such as B:AA which might take a while.  The gameplay is simply awesome… as fluid as playing via disc with no disc issues to hamper hours of playtime.  If you're already familiar with the newest Batman title on PS3 via disc, the demo game version isn't at all different.  Theatrical, beautifully rendered and full of grim violence and tense situations, B:AA via the downloadable demo is worth a few hours of pure, exhilarating fun to the point where purchasing the full version isn't completely out of the question.  It's a neat trick by Sony and other game device makers to take marketing in this direction and there's certain to be payoff for both Sony and game producers.
In my next review I'll cover the other side of Sony's PlayStation Store (movies/TV) and delve a bit more into what the rest of the PS Network offers.  Upcoming reviews on the PS3 Slim will cover standard-def disc play (upscaled by the PS3), Blu-ray use and BD-Live.
The PlayStation 3 Slim (120GB) by Sony
MSRP $299
Technical Specifications: http://www.us.playstation.com/PS3/Systems/TechSpecs/techspecs120gb.html
Available at: Amazon.com, SonyStyle.com, and virtually everywhere else.