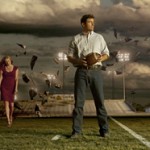 In case you missed it, Friday Night Lights Season 4 started running this week. The new season takes you back to Dillon, Texas, where Coach Taylor (fired from the Panthers) has been forced to take a job at new rival school East Dillon High. The show is running on DirecTV's 101 Network, where it is shown exclusively until NBC starts running the show in 2010.
The new season introduces a bunch of new characters, as well as bringing back favorites like indie-rocker Devin (Stephanie Hunt). Things aren't exactly the same at East Dillon, where Coach Taylor (played by Kyle Chandler) is faced with the challenge of coaching a new team of players who aren't exactly model students.
As expected, Friday Night Lights looked fantastic in high-definition and sounded great with surround sound.
Friday Night Lights Season 4 Episode 1 "East Of Dillon" was produced/directed by Peter Berg and written by Jason Katims. Like last year, Season 4 will consist of 13 episodes. The show is scheduled to run for two more years, as DirecTV and NBC renewed a partnership deal through the 2010/2011 season.
Friday Night Lights is normally shown on Wednesdays at 9 p.m. ET/PT.  A rebroadcast of the first episode in high-definition is scheduled for tonight, Oct. 30 at 9:00 on T101HD. Additional rebroadcasts will follow — you can view the full schedule here.