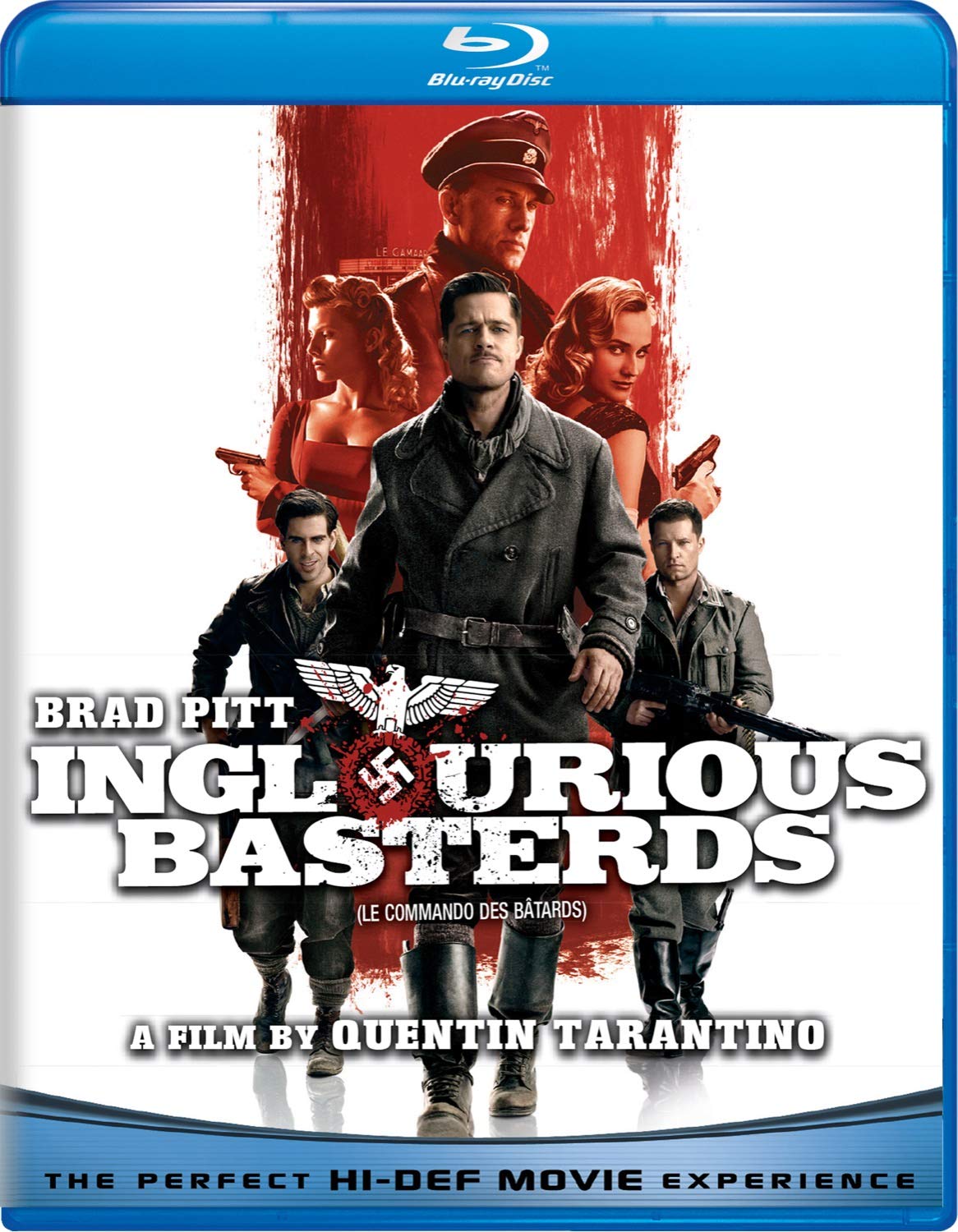 Quentin Tarantino's last big theatrical release stars Brad Pitt in what Universal Studios calls "a high-octane World War II revenge fantasy." On Dec. 15, you'll be able to own the flick, along with a digital copy included with the Blu-ray edition two-disc set.
As well as Blu-ray Disc, the film will be released as a Two-Disc DVD Special Edition and Single-Disc DVD. All versions include extended and alternate scenes, full version of "Nation's Pride" (the film within the film) and worldwide trailers.
Blu-ray and 2-Disc DVD versions feature "The Making of Nation's Pride", poster galleries, a discussion with Tarantino and Pitt, and digital copy of the film.
"Brad Pitt shines as the bodacious American commander of a lethal team of Jewish-American soldiers known as "The Basterds" – whose exploits in occupied France strike terror in the hearts of the German rank and file and enrage the German High Command."
Here's a breakdown of the features direct from Universal:
BONUS FEATURES
All three editions of Inglourious Basterds include:
— Extended & Alternate Scenes
—  Nation's Pride – The film within the film Inglourious Basterds can be seen it its entirety
—  Domestic and International Trailers
Both the Two-Disc Special Edition and Blu-ray also come with:
—  Roundtable Discussion with Quentin Tarantino, Brad Pitt and film
historian/critic Elvis Mitchell
—  The Making of Nation's Pride
—  The Original Inglorious Bastards  – a salute to the original 1978 film
—  A Conversation with veteran actor Rod Taylor
—  Rod Taylor on Victoria Bitters, the Australian beer
—  Quentin Tarantino's Camera Angel
—  Hi Sallys – Gag Reel
—  Film Poster Gallery Tour with Elvis Mitchell
—  Inglourious Basterds Poster Gallery
—  Digital Copy of Inglourious Basterds
In addition to the above features, the Inglourious Basterds Blu-ray Hi-Def release includes:
—  BD-Live(TM)– Access the BD-Live(TM) Center with your Internet-connected player to download  the latest trailers, host a chat with your buddies, upload your own webcam commentary, and more. Buy on Amazon