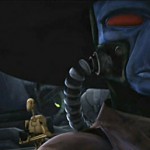 The new season of Star Wars: The Clone Wars premieres tomorrow night with the two-part episode of Rise of the Bounty Hunters. The one-hour season opener of the animated TV show starts Oct. 2 at 8 p.m. (Eastern/Pacific) on Cartoon Network, and will be broadcast in both standard and high-definition.
"Rise of the Bounty Hunters" is broken into two episodes starting with "The Holocron Heist" (Episode 1) and ending with "Cargo of Doom" (Episode 2).
The premiere season episodes feature the bounty hunter Cad Bane (who we saw in last season's cliffhanger), and his crew of various mercenaries set upon wreaking havoc among the Republic.
Cad Bane is hired to acquire a Jedi holocron which contains the identities of children with the force. According to George Lucas, the Cad Bane character was influenced by gunslingers in Westerns, and that type of character has been influential to the Star Wars universe since the first theatrical film.
From the looks of the trailers the new season definitely appears to be much darker than the previous season, which according to USA Today had an audience of 3.3 million viewers. Check out one of the previews posted on YouTube below (be sure to click the HD button for higher quality):
[HTML1]