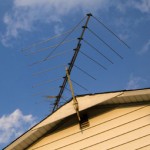 Did you know you don't have to subscribe to cable, satellite, fiber-optic or IPTV services to get HD channels? A limited number of high-definition channels are available over-the-air for free, you just need an antenna and HDTV. 
The selection is limited to public channels that are broadcast over-the-air. You won't get Discovery HD, TNT HD, or premium channels like HBO HD and Cinemax HD. But if you are looking to save a buck and can live without a large selection of channels, a simple antenna can your replace your cable or satellite box.
Digital television (DTV) has enabled the broadcast of 720p and 1080i broadcasts over-the-air due to its efficient use of bandwidth. High-definition channels have been broadcast for years now, and the amount of HD programming has substantially grown. The big networks, NBC, ABC, CBS and FOX have upgraded most of their primetime shows to HD. Shows like "CSI," "Survivor," and "Lost" are some viewer favorites which showcase the potential of high-definition broadcasts. PBS also provides a good amount of HD programming.
Getting the HD channels is pretty simple. First of all, you'll need an HDTV. The HDTV must have a built-in digital tuner (most newer HDTVs do). If not you'll need to use a digital receiver to capture the channels. Your HDTV will also need an antenna. Sometimes rabbit ears will do the trick, but it must be an antenna with both UHF and VHF reception (both rabbit ears and a circular antenna) are an indication.
If there are too many obstructions around your home you may need to use an outdoor antenna which will most likely give you the best results. Some folks have a rotary antenna which can be turned to face the direction of a specific broadcast facility. Other antennas like the ultra-long range Clearstream 4 (pictured left) get excellent results in a compact size. Amazon
has a large selection of antennas as well as AntennasDirect.
HD channels are not just limited to viewing on your HDTV. You can also get over-the-air HD channels on your computer using a simple device like the Pinnacle or Elgato USB converters. The devices are small receivers that translate the digital signals and display them through software on your PC. They are available for both Windows and Apple operating systems and depending on the monitor can look really good.
After you have connected an antenna to either your HDTV or computer you may need to reposition it for optimal signal reception. If you do reposition the antenna be sure to re-scan for the digital channels. Your digital tuner will automatically scan for every available channel and record the ones with signals. (Note: If you have not re-scanned after June 12 you may be missing out some digital channels.)
Over-the-air reception is not the solution for everyone. Remote locations and places where there are many obstructions may not provide optimal HD results. Harsh weather conditions can also affect digital reception. A great resource to help you find the right antenna is AntennaWeb.org.
If you already have HD channels through a provider try setting up an antenna just to compare quality. You can't beat over-the-air broadcasts because they are normally uncompressed beyond the native file compression and do not suffer from the degradation you may find in cable broadcasts and streaming internet content.