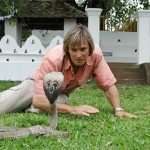 Herpetologist and photographer Austin Stevens, also known as the "Snakeman", will bring his adventures to HDNet in high-definition this coming fall. The show appropriately called "Austin Stevens Adventures" will take him around the globe in search of the deadliest snakes and rarest creatures on earth.
Stevens got his nickname while working for the South African army as a "snake remover"  He later studied to become a qualified herpetologist, and went on to take up the position of Curator of Herpetology at the Nordharzer Schlangenfarm in Germany. Since then he has been making films and photographing wildlife throughout the world.
Stevens' shows, also known as "Austin Stevens: Most Dangerous" and "Austin Stevens: Snakemaster" have already been airing in the UK. No premiere date has announced yet for HDNet. Stay tuned for more info.
[HTML1]
Here's a link to more previews.