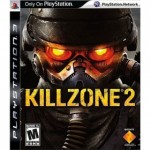 E3 (Electronic Entertainment Expo) is right around the corner and though the big game publishers are waiting until the June event to release much of their exciting gaming news, they have given us a few morsels to keep us busy in the mean time. In fact, this week saw the release of several expansions to some of the biggest games of 2008 and early 2009.
Burnout: Paradise on PS3 and Xbox 360 got its 'Cops and Robbers' expansion, adding all new game play to the ever expanding world of Paradise City. The DLC will cost you $9.99 on PSN or 1200 Microsoft Points on Xbox 360.
KILLZONE 2 got its first multiplayer update. The 'Steel & Titanium' pack offers new multiplayer levels and game play. This DLC will cost you $5.99 on the PSN.
And Little Big Planet began its flow of DLC once again with the 'Egyptian Mini-Pack' for $2.99 on the PSN. This DLC offers new costumes and creation tools for all of your little Sack-Boys and Sack-Girls.