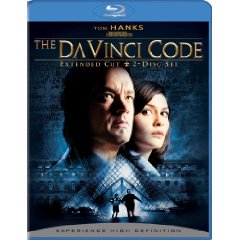 Sony Pictures Home Entertainment will release an extended version of "The Da Vinci Code" exclusively on Blu-ray, that according to a recent article from Home Media Magazine. The film stars Tom Hanks, Audrey Tautou and Ian McKellen in the film adaptation of what could be considered Dan Brown's most controversial book.
The Blu-ray disc will have an aspect ratio of 2.40:1 and Dolby 5.1 audio. It will contain an extra 28 minutes of footage, 17 featurettes, BD Live, and a picture-in-picture mode giving viewers the option of switching between eight simultaneous viewing modes. The hi-def only disc will hit the streets on April 28, with an MSRP of $38.96.
The Blu-ray release of the 'The Da Vinci Code Extended Cut' will coincide with the May 15 theatrical release of "Angels & Demons," based on Dan Brown's book from the year 2000 which actually preceded "The Da Vinci Code." published in 2003.
The Da Vinci Code Two-Disc Extended Cut
List Price:
$38.96
| Current Price:
$26.99
|
Pre-order Now