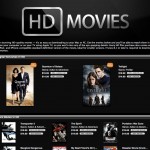 Apple's iTunes started offering a limited number of HD movies for rent or purchase yesterday. While iTunes has been offering TV shows in hi-def since Sept. '08, the addition of movie titles has got to get you excited. High-definition movies are priced at $19.99, and new release rentals at $4.99. Other films from the iTunes library will be $3.99 to rent.
What's cool is every HD title that is purchased comes with an iPod and iPhone version (in standard-definition). For larger viewing you can watch the movies on your Mac, PC or HDTV with along with the Apple TV receiver. iTunes HD content is served 720p at a really low bit-rate, but I've never heard anyone complain about it.
14 titles were part of the launch including the option to pre-order "Quantum Of Solace," "The Spirit" and "Twilight."
Here's a full list of the first batch of HD movies offered on iTunes:
Bangkok Dangerous
Disaster Movie (Unrated)
Everybody Wants to be Italian
My Best Friend's Girl (Unrated)
Religulous
Saw V
The Lucky Ones
The Lucky ones The Punisher: War Zone
Quantum of Solace (Pre-order)
The Spirit (Pre-order)
Transporter 3
Twilight (Pre-order)
Tyler Perrry's The Family That Preys
W.