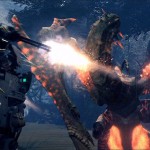 For those of you who haven't heard, Capcom recently held a press conference in which they announced sequels to two very popular games – Dead Rising 2 and Lost Planet 2. Details are currently trickling in about both titles.
Today Capcom released the first trailer and images from Lost Planet 2 along with the fact that the project is being spearheaded by Resident Evil 5 producer Jun Takeuchi. Most notably about the trailer was the lush, tropical atmosphere. The first Lost Planet took place on a completely snow covered landscape (Star Wars fans, think of planet Hoth). The game also follows in the footsteps of Resident Evil 5, with its campaign being playable entirely co-op.
One question that has yet to be fully answered is whether or not Capcom will approach these two games with its current multi-platform release policy. Both Dead Rising and Lost Planet were exclusive to the Xbox 360. Will their sequels follow Resident Evil 5 onto the PlayStation 3?
No release dates have been announced, so far, for either title. Check back for more info as it becomes available.
Here is the announcement on Youtube with English Translations. Trailer grab courtesy Gamersyde.