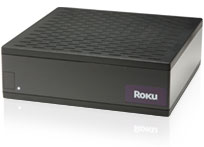 Roku released support for streaming high definition content from Netflix earlier this week. With the update, the Netflix Player by Roku can deliver HD over average broadband connections. The software update will be delivered free-of-charge to Roku players over the next few weeks.
"Netflix is a pioneer in streaming HD content over the Internet and the results are impressive," said Anthony Wood, founder & CEO of Roku. "Adding hundreds of HD titles to their catalog of more than 12,000 streaming titles provides tremendous value to Roku owners."
The set-top box from Roku sells for $99 and doesn't require any additional subscription from Netflix. A second update coming in 2009 will allow add support for other content delivery sources like YouTube and Hulu.