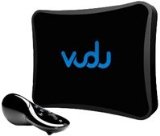 Vudu's HD VOD library has reached 1,100 titles, surpassing any other cable or satellite's HD VOD offerings. (Comcast now offers just over 1000.) The company added approximately 150 high-definition titles per week in October and began offering 65 titles in 1080p, the highest resolution currently available.
The Vudu set-box sells for $299, and requires 4-mbps broadband internet connection for instant playback of high-definition content. Movies from the Vudu library are available from .99 to $3.99. Or, you can download-to-own from $9.99 to $19.99. A more expensive model, the VUDU XL, sells for $999 and is designed for use in high-end home theaters.
The entire Vudu library consists of close to 10,000 standard-definition films as well as the 1,100 high-definition films. Vudu hopes this large addition of hi-def films will invite more hi-def enthusiasts to try their product. Currently, Vudu is far beyond Apple TV sales, but the product does have a buzz happening.