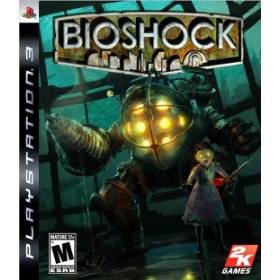 You've waited forever and now it's here – BioShock for Playstation 3. From 2k, the makers of the 2007 hit game Bioshock for Xbox 360 and PC, comes the PS3 version with new features and content. New features include the Survivor difficulty mode, Trophy support and addition of add-on game content soon available for download.
While the PS3 version does have those additions, according to 2k senior producer Melissa Miller there were no improvements on the graphics level.
Christoph Hartmann, president of 2K said, "With its new features and the PS3 exclusive downloadable content, we are confident that players will have even more reasons to fall in love with the unique and unforgettable world of Rapture."
Bioshock is set in 1960 and follows plane crash survivor Jack who explores the underwater world of Rapture. There he must survive attacks by mutants and mechanical drones. According to Matt Miller of Game Informer, Bioshock provides "an entirely new tool through which to explore philosophy, psychology, and morality."
BioShock
is currently available from Amazon.com for $56.99 (regularly $59.99).