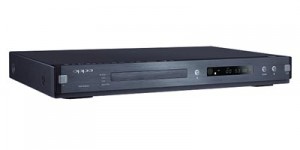 How about a high-definition up-converter that costs the same as an entry level Blu-ray Disc player? Called "a power house of a DVD player", the $399 DV-983H features processing technology from Anchor Bay Technologies, 7.1 channel audio capabilities, and HDMI and Component output with 720p, 1080i and 1080p up-scaling resolutions.
The DV-983H universal DVD player from OPPO received a perfect five-star rating from About.com. The processor is said to "generate a clearer, smoother, and true-to-life picture free of artifacts." High end features include aspect ratio conversion, special stretch modes, and multi-level zooming.
The player also supports most video and audio disc formats, including DVD-Audio and Super Audio CD (SACD). Included with the purchase of the player is an HDMI cable, however no component cables are supplied..
For those of you with large DVD collections, up-converting technology is an economical solution with the DV-983H. When comparing the price of discs, you can get two to three standard-definition DVDs for the price of one high-definition Blu-ray Disc.
However, at $399, you could get a superior quality Blu-ray Disc player that also upconverts to 1080p. Unless the DV-983H comes down in price, it may be hard to justify spending that much on an up-converter, unless you can make use of the player's many high-end features.