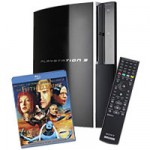 Amazon is currently offering a bundle discount on the purchase of a 40GB Playstation 3. If you "Add to Cart" a Sony Playstation 3 Blu-ray Disc Remote and "The Fifth Element (Remastered)" on Blu-ray, you will get those two items for free.
That's a discount of about $35 bucks. The remote, I'll take. The disc, I can live without. I don't think I could take another 30 seconds of Chris Tucker as a whiny inter-galactic entertainer. This was once one of the premiere Blu-ray discs, showcasing the possibilities of high-definition. But I'm not sure you would call it a "flagship" BD disc anymore.
Amazon, throw in a new release or $29.95 disc and I'm in. How about "I am Legend", "Blade Runner", or "There Will Be Blood"? If you really want to move the PS3 players offer the BBC's "Planet Earth."
The offer is good until the 26th, or "while supplies last". Here's the link if you want to check it out.