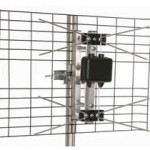 Did you know it's possible to get high-definition (HD) broadcasts from an antenna over-the-air? There are certain types you can buy, and they range from about $10 to $800. Antennas are available for your rooftop, set-top, and even hidden antennas behind picture frames.
You can also receive high-definition broadcasts on your computer using an antenna attached to a USB card such as the Elgato EyeTV and the Pinnacle PCTV.
Digital television provides the format for high-definition broadcasts. Most major networks are broadcasting in digital (DTV), and all networks will have to by Feb. 2009 in order to meet the digital transition requirement. If your TV is not digital, you will need a box to convert the digital signal to analog. $40 coupons are available for anyone at the DTV2009 website.
But let's get back to the antenna. The CEA has developed a fantastic website that will show you (once you put in your zip code), the kind of antenna you will need and which way it will need to face to receive the best signals. It even takes into consideration the buildings around you that may interfere with the signal. Check out AntennaWeb.org.
It should be mentioned that over-the-Air (OTA) transmissions are limited in programming. You wont find ESPN, Showtime or TNT over-the-air. However OTA broadcasts are fantastic quality because they are uncompressed. You can also flip through multi-casts, which sometimes offer programming that isn't available through service providers.
Related Links
Approved digital-to-analog converters
Reveiw: Digital Stream DTX9900